Illustrator 10 Bible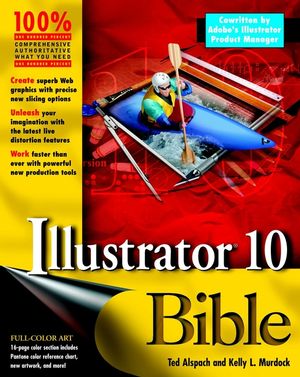 Illustrator 10 Bible
ISBN: 978-0-764-52320-5
Mar 2002
888 pages
Product not available for purchase
Description
Illustrator 10 Bible shows you how to express your creativity by using distortions, fills, blends, paths, masks, and type effects. This book includes all the information you will need to learn the fundamentals, take advantage of new features, and master advanced tasks in Illustrator. Plus, you'll find out how to integrate the use of Illustrator and Photoshop.
Foreword.

Preface.

Part I: Illustrator Basics.

Chapter 1: Learning the Illustrator Interface.

Chapter 2: Working with Illustrator Documents.

Chapter 3: Drawing and Painting.

Chapter 4: Working with Objects.

Chapter 5: Selecting and Editing.

Chapter 6:Working with Color and Gradients.

Part II: Putting Illustrator to Work.

Chapter 7: Organizing Artwork.

Chapter 8: Manipulating Type.

Chapter 9: Applying Fills and Strokes.

Chapter 10: Transforming and Distorting Artwork.

Chapter 11: Using Path Blends, Compound Paths, and Masks.

Part III: Mastering Illustrator.

Chapter 12: Understanding Transparency.

Chapter 13: Using Styles, Effects, and Filters.

Chapter 14: Working with Pixels.

Chapter 15: Customizing and Optimizing Illustrator.

Part IV: Outputting Illustrator.

Chapter 16: Understanding Printing, Separations, and Trapping.

Chapter 17: Using Illustrator to Generate Web Graphics.

Appendix A: What's New in Illustrator 10.

Appendix B: Shortcuts in Illustrator 10.

Appendix C: Resources.

Appendix D: Installing Illustrator 10.

System Requirements for Macintosh.

Installing Illustrator 10 for Macintosh.

Index.

End-User License Agreement.