Illustrator 10 For Dummies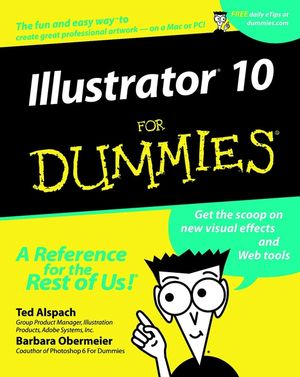 Illustrator 10 For Dummies
ISBN: 978-0-764-53636-6 November 2001 384 Pages
Description
Illustrator 10 For Dummies covers the latest updates to Adobe Illustrator, including Web graphic tools and new effects you can apply to your images. The book also covers several timesaving shortcuts, creating brilliant graphics, exporting artwork to other applications, and printing your projects like a pro. Discover how to create curves, add transparency to elements, develop professional looking logos, and use layer effects. Packed with great information and plenty of humor, Illustrator 10 For Dummies is the fun and easy ticket to becoming an Illustrator expert with out any of the pain.
Table of contents
Foreword.

Introduction.

PART I: Driving People Crazy -- Illustrator's Bum Rap.

Chapter 1: Introducing the World of Illustrator.

Chapter 2: Following the Righteous Path.

Chapter 3: Doing Everyday Things with Illustrator.

PART II: Drawing and Coloring Your Artwork.

Chapter 4: Shaping Up, Basically.

Chapter 5: Getting Your Fill of Fills and Strokes.

Chapter 6: Selecting and Editing Paths.

Chapter 7: Wielding the Mighty Pen Tool.

Chapter 8: Wielding the Versatile Pencil, Line Segment, and Arc Tools.

Chapter 9: Creating Magnificent Brushstrokes.

Chapter 10: Extreme Fills and Strokes.

Chapter 11: Keeping Up Appearances, with Style(s).

PART III: Taking Your Paths to Obedience School.

Chapter 12: Pushing, Pulling, Poking, and Prodding.

Chapter 13: Taking Images Out of the Realm of Reality.

Chapter 14: Organizing Efficiently.

PART IV: Practically Speaking: Type, Print, and Files.

Chapter 15: Introducing Letters and Such (Type 101).

Chapter 16: Printing Your Masterpiece.

Chapter 17: Putting Your Art on the Web.

Chapter 18: Moving Files into and out of Illustrator.

PART V: The Part of Tens.

Chapter 19: Ten Production-Enhancing Tips.

Chapter 20: Ten (Or So) Ways to Customize Illustrator.

Index.
Downloads
Bonus Chapters 1 and 2
We had so much good stuff to share with you that we just couldn't cram it all between the pages of our book. Here are two extra chapters, filled to the gills with invaluable advice on advanced typography tools as well as ten really cool techniques for creating some very, very special effects with Illustrator.
Download