Illustrator CS4 For Dummies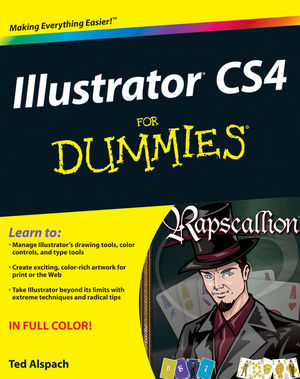 Illustrator CS4 For Dummies
ISBN: 978-1-118-05265-5 January 2011 384 Pages
Description
Adobe Illustrator is the gold standard for creating exciting, color-rich artwork for print, the Web, or even mobile devices. Whether you're stepping up to Illustrator CS4 or tackling Illustrator for the first time, you'll find Illustrator CS4 For Dummies is the perfect partner.

This full-color guide gives you the scoop on the newest tools, tips on color control and path editing, ways to organize graphics, and how to get your work into print or on the Web. You've heard Illustrator is a bit complicated? That's why you need this friendly For Dummies book! It shows you how to:
Manage Illustrator CS4's many tools, commands, and palettes
Decide when to choose RGB over CMYK and how to get perfect color when printing
Compare path and pixel documents, adjust points on a path, and learn to use the versatile Pen and Pencil tools
Use the Character and Paragraph palettes and get creative with type on a path
Work in pixel preview mode, create Web-specific vector graphics, and use Flash with Illustrator
Set up your pages for printing and work with separations, or save files in Web-friendly formats
Create basic shapes, straight lines, and precise curves, then bring it all together into eye-popping artwork
Organize with the Layers palette, tweak color, and make the most of styles and effects
Use Illustrator together with other elements of the Adobe Creative Suite
With plain-English instructions and colorful examples of what you can achieve, Illustrator CS4 For Dummies will make you an Illustrator pro in no time.
Introduction.
Part I: Driving People Crazy — Illustrator's Bum Rap.
Chapter 1: Introducing the World of Illustrator.
Chapter 2: Following the Righteous Path.
Chapter 3: Doing Everyday Things with Illustrator.
Part II: Drawing and Coloring Your Artwork.
Chapter 4: Shaping Up, Basically.
Chapter 5: Getting Your Fill of Fills and Strokes.
Chapter 6: Selecting and Editing Paths.
Chapter 7: Wielding the Mighty Pen Tool.
Chapter 8: Creating Straight and Curved Lines without the Pen Tool.
Chapter 9: Creating Magnifi cent Brushstrokes.
Chapter 10: Extreme Fills and Strokes.
Chapter 11: Effectively Keeping Up Appearances, with Style(s).
Part III: Taking Your Paths to Obedience School.
Chapter 12: Pushing, Pulling, Poking, and Prodding.
Chapter 13: Organizing Efficiently.
Part IV: Practically Speaking: Type, Print, and Files.
Chapter 14: Introducing Letters and Such (Type 101).
Chapter 15: Printing Your Masterpiece.
Chapter 16: Moving Files Into and Out of Illustrator.
Chapter 17: Putting Your Art on the Web.
Part V: The Part of Tens.
Chapter 18: Ten Production-Enhancing Tips.
Chapter 19: Ten (Or So) Ways to Customize Illustrator.
Index.