Immigrant Students and Higher Education: ASHE Higher Education Report 38:6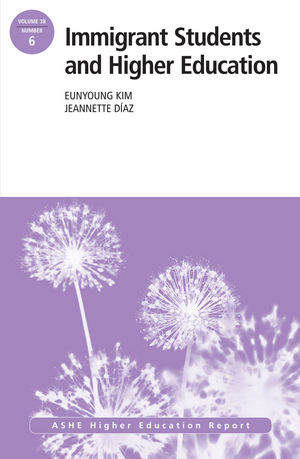 Immigrant Students and Higher Education: ASHE Higher Education Report 38:6
ISBN: 978-1-118-61415-0 March 2013 Jossey-Bass 152 Pages
Description
Immigrant populations, growing quickly in both size and diversity, have become an important segment of the U.S. college student population, one that will profoundly transform the educational landscape and workforce in coming decades. Nevertheless, immigrant students in higher education are often inaccurately characterized and largely misunderstood.

In response to this alarming disconnect, this monograph reviews and synthesizes the existing body of literature on immigrant students, with special attention placed on transitions to college and collegiate experiences. The authors lay a foundation for future research and draw out implications for policies and practices that will better serve the  educational needs of this growing population.


This is the 6th issue of the 38th volume of the Jossey-Bass series ASHE Higher Education Report. Each monograph is the definitive analysis of a tough higher education issue, based on thorough research of pertinent literature and institutional experiences. Topics are identified by a national survey. Noted practitioners and scholars are then commissioned to write the reports, with experts providing critical reviews of each manuscript before publication.
Table of contents
Executive Summary vii
Foreword xi
Acknowledgments xv
Introduction, Context, and Overview 1
Why Focus on Immigrants? 2
Immigrant as a Conceptual Term 4
Definitions of Key Terms 7
Limitations of the Monograph 10
Organization of the Monograph 11
A Context for Immigration in the United States 12
Theoretical Foundation: Immigrant Student College Transition and Persistence 25
Neo-Racism 26
Social-Ecological Model 27
Acculturation and Assimilation Th eories 30
Social Capital Th eory 36
Conclusion 45
Access to Higher Education for Immigrant Students 47
Generational Status 48
Socioeconomic Status 49
English Language Profi ciency 52
Parental Involvement and Expectations 55
Financial Aid 57
Conclusion 60
Collegiate Experience of Immigrant Students 61
College Adjustment and Persistence 62
Psychological Development and Acculturation 65
Social Identity Development 68
Career Aspirations and Development 72
Conclusion 74
Undocumented Students and Higher Education 77
Background on Undocumented Immigrants 79
Federal Legislation and Undocumented Students 80
State Approaches to Undocumented Students and Higher Education 84
Opposition to In-state Tuition Rates for Undocumented Students 88
Conclusion 89
Immigrant Students and Community Colleges 91
Relevant Research on Immigrants at Community Colleges 93
Issues Related to Immigrant Students in Community Colleges 97
Innovative Programs for Educating Immigrants 102
Conclusion 105
Concluding Th oughts 109
Suggestions for Future Research 110
Implications for Policy and Practice 112
Conclusion 114
Notes 117
Appendix 121
References 135
Name Index 157
Subject Index 163
About the Authors 169