Immigrant Women's Health: Problems and Solutions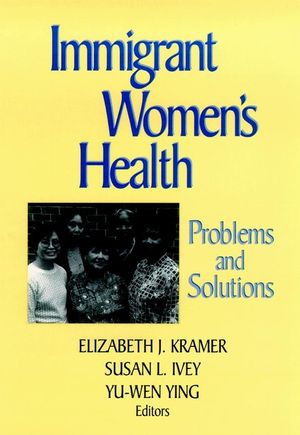 Immigrant Women's Health: Problems and Solutions
ISBN: 978-0-787-94294-6
Dec 1998, Jossey-Bass
464 pages
Description
This is a significant and timely book. The chapters are rich in describing clinical considerations and approaches to the immigrant patient in a broad range of disease areas. I recommAnd this book to all administrators and clinicians who serve or plan to serve the growing immigrant populations in the United States.
--Henry Chung, medical director, Chinatown Health Clinic, New York, New York

Immigrant Women's Health offers doctors, nurses, and administrators the knowledge and tools they need to meet the challenge to provide quality care for one of the United States' most vulnerable patient populations?immigrant women.

Providing readers insights into the knowledge, attitudes, health beliefs, health care practices, and health care seeking behavior of immigrant women, the contributors offer effective strategies for providing culturally-competent, high-quality, cost-effective care to migrant women. Health care planners, policy makers, and administrators who seek a clear understanding of the issues surrounding health services utilization by immigrants and the devastating effects of recent changes to federal policies will find this book a vital and practical reference.
BACKGROUND.

Demographics, Definitions, and Data Limitations (E. Kramer, et al.).

Culture and Multicultural Competence (E. Ferran, et al.).

Linguistic Issues (S. Riddick).

Health Services Utilization and Access to Care (S. Ivey).

Utilization of Mental Health Services (K. Chun & P. Akutsu).

The Impact of Recent Legislation on the Delivery of Health Care to Immigrants Welfare and Immigration Reforms in 1996 and 1997 (S. Ivey).

Proposition 187: California's Anti-Immigration Statute (N. Mizoguchi).

HEALTH PROBLEMS AND CONCERNS.

Screening, Infectious Diseases, and Nutritional Concerns Initial Assessment, Screening, and Immunizations (S.Ivey & S. Faust).

Infectious Diseases (R. Avery).

Nutritional Assessment and Dietary Intervention (M. Lee & S. Huang).
Prenatal and Reproductive Health Care (F. Taylor, et al.).

Chronic Diseases Cardiovascular Disease (S. Ivey & G. Gardner).

Hypertension (D. Lieberman, et al.0>

Diabetes Mellitus (E. Kramer & W. Bateman).

Breast and Cervical Cancer (B. Wismer).

Osteoporosis (E. Siegler & E. Kramer).

EMOTIONAL, PSYCHOSOMATIC, BEHAVIORAL, AND MENTAL HEALTH PROBLEMS.

Domestic and Sexual Violence Domestic Violence (S. Srinivasan & S. Ivey).

Sexual Violence, Rape, and War (K. Compton & D. Chechile).

Female Genital Mutilation (K. Compton & D. Chechile).

Depression and Anxiety Disorders (L. Tracy & S. Mattar).

Posttraumatic Stress Disorder (L. Tracy).

Somatization, Neurasthenia, and Culture-Bound Syndromes Somatization Disorders (C. Hoover, et al.).

Culture-Bound Syndromes (A. Ng).

MEETING THE HEALTH CARE NEEDS OF IMMIGRANT WOMEN: MODEL PROGRAMS AND TOOLS.

Applications of Linguistic Strategies in Health Care Settings (S. Riddick).

A Model Posttraumatic Stress Disorder Support Group for Cambodian Women (J. Shepherd).

An Educational Program for Families on Intergenerational Conflict (Y. Ying).

The Korean Breast and Cervical Cancer Screening Demonstration (B. Wismer, et al.).

A Case Study of Asian Health Services (S. Hirota).

A Cultural Competence Curriculum (E. Kramer & W. Bateman).

Cultural Competence Assessment of Practices, Clinics, and Health Care Facilities (D. Andrulis).
"The authors are to be commAnded for an outstanding review of the health issues of the newest members of our country. Increasingly we are reminded that human rights are women's rights. No country is exempt from this principle; infringement includes the prizes of war, bride burning, unnecessary surgery, sexual assault (domestic violence), and lack of access to health care." (Jean Fourcroy, past president, American Medical Women's Association; adjunct professor, urology, Uniformed Services University of Health Science, Bethesda, MD)

"This is a significant and timely book. The chapters are rich in describing clinical considerations for and approaches to the immigrant patient in a broad range of disease areas. I recommAnd this book to all administrators and clinicians who serve or plan to serve the growing immigrant populations in the United States. Particularly noteworthy is the book's emphasis on women's health issues and the acknowledgment of the key roles women play in accessing health care for their families." (Henry Chung, medical director, Chinatown Health Clinic, New York)

"The time has come . . . to address the inequities in the delivery of health care to all who reside in the United States. We must be willing to . . . provide services and information . . .that meet cultural, psychosocial, and educational needs. This book goes a long way toward achieving that goal by providing a solid background on the major clinical, behavioral, and policy issues, problems and prospects as well as potential solutions and examples of exemplary programs which can be replicated. It comes to the marketplace not a moment too soon!" (Lillian Pardo Gonzalez, professor of pediatrics and neurology, University of Kansas School of Medicine)

"This book offers a comprehensive overview that can help clinicians, health care leaders, and educators prepare for requisite changes in health care delivery. The perspective on immigrant women's health is refreshing, emphasizing positive aspects as well as challenges experienced by immigrant women." (JAMA: Journal of the American Medical Association)