Immigrants and Hosts: Perceptions, Interactions, and Transformations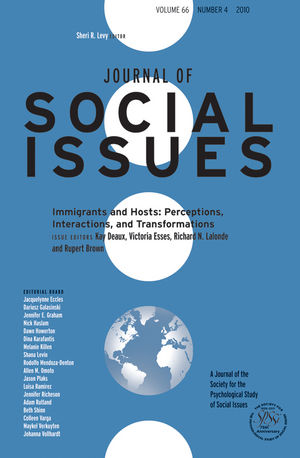 Immigrants and Hosts: Perceptions, Interactions, and Transformations
ISBN: 978-1-444-34999-3 February 2011 Wiley-Blackwell 300 Pages
Description
This issue focuses on the contribution of psychological theory and research to facilitating successful immigration and integration. Coverage includes both sides of the equation-the attitudes and values of members of the host society as well as the motivations and experiences of immigrants themselves-and includes contributions from investigators on four continents.
The work presented in this issue covers four continents; countries include Australia, Canada, Chile, France, Germany, the Netherland, the United Kingdom and the United States; this geographical breadth is unusual in a single volume and should increase its readership base
Methods include experiments, questionnaires and surveys, interviews, longitudinal analyses, and meta-analytic techniques
Includes the perspectives of both immigrants and members of the host countries, as well as articles that look at the interchange between these two perspectives
Explicit consideration of policy is part of the coverage, represented in particular by the final article written by a Canadian immigration policy specialist
For all of those in the field of social psychology who personally knew or professional respected Kenneth Dion, this issue is dedicated to him and to the many contributions that he made to social psychology in general and to the study of immigration in particular
SECTION I: A PSYCHOLOGY OF IMMIGRATION.
Psychological Perspectives on Immigration (Victoria M. Esses, Kay Deaux, Richard N. Lalonde, and Rupert Brown).
Understanding Immigrants' Experiences: Reflections on Ken Dion's Research Contributions (Karen Kisiel Dion).
SECTION II: THE HOST PERSPECTIVE.
Speaking Out on Immigration Policy in Australia: Identity Threat and the Interplay of Own Opinion and Public Opinion (Winnifred R. Louis, Julie M. Duck, Deborah J. Terry, and Richard N. Lalonde).
How Ideological Attitudes Predict Host Society Members' Attitudes toward Immigrants: Exploring Cross-National Differences (J. Christopher Cohrs and Monika Stelzl).
Who We Are and Who Can Join Us: National Identity Content and Entry Criteria for New Immigrants (Samuel Pehrson and Eva G. T. Green).
SECTION III: THE IMMIGRANT PERSPECTIVE.
Migrating to Opportunities: How Family Migration Motivations Shape Academic Trajectories among Newcomer Immigrant Youth (Carolin Hagelskamp, Carola Suarez-Orozco, and Diane Hughes).
"To See Ourselves as Others See Us": On the Implications of Reflected Appraisals for Ethnic Identity and Discrimination (Kimberly A. Noels, Peter A. Leavitt, and Richard Clement).
Political Mobilization of Dutch Muslims: Religious Identity Salience, Goal Framing, and Normative Constraints (Karen Phalet, Gulseli Baysu, and Maykel Verkuyten).
SECTION IV: COMBINING PERSPECTIVES.
Acculturation in Multiple Host Community Settings (Richard Y. Bourhis, Elisa Montaruli, Shaha El-Geledi, Simon-Pierre Harvey, and Genevieve Barrette).
Prejudice among Peruvians and Chileans as a Function of Identity, Intergroup Contact, Acculturation Preferences, and Intergroup Emotions (Roberto Gonzalez, David Sirlopu, and Thomas Kessler).
SECTION V: REFLECTIONS ON POLICY.
Psychological Research and Immigration Policy (Marc Wills).