Immigration and American Diversity: A Social and Cultural History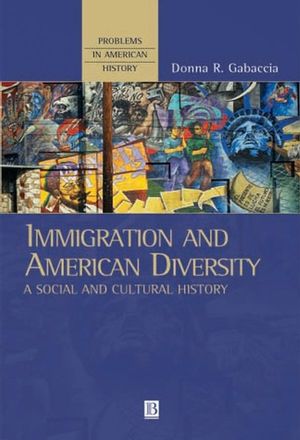 Immigration and American Diversity: A Social and Cultural History
ISBN: 978-0-631-22032-9
Mar 2002, Wiley-Blackwell
320 pages
Description
This engaging textbook is a concise overview of a sweeping topic - American Immigration. Immigration is core to the history of America - a "Nation of Immigrants" who are diverse by definition. Beginning with the first arrival of migrants from Asia, Africa, and Europe, and ending with a discussion of the United States at the turn of the 21st century, this book offers an unflinching analysis of the complex relationship between America's national solidarity and ethnic diversity.
List of Figures and Tables.
Preface and Acknowledgments.
Introduction.
Student Exercise: American Diversity – and Me; American Diversity – and You.
1. Creating America; Creating Americans.
2. Americans and Aliens, 1750–1835.
3. Emigrants and Regional Strife, 1820–1860.
Student Exercise: Catholic Nuns Testify in Court after the Burning of the Charlestown Convent.
4. Redefining the Nation, 1850–1900.
Student Exercise: Can a Negro be a Nativist?.
5. Immigrants in a Nativist America, 1890-1920.
Student Exercise, Determining the Geographic Origins of Immigrants at Century's Turn.
6. Migrants, Immigrants, and Scientific Racism, 1900-1945.
7. The Postwar USA: Nation of Immigrants or Multicultural Nation?.
Student Exercise: Ethnicity, Authors, and their Books.
8. Today's Immigrants; Tomorrow's Nation.
Student Exercise: This Week's Headlines: An Oral Report on Immigration's Impact on Local Communities.
Conclusion.
Notes.
Index.
"An intelligent and readily accessible synthesis of much scholarship on immigration and ethnicity, Donna Gabaccia's new book blends clearly written accounts with stimulating exercises for students. Authored by a leading immigration historian,
Immigration and American Diversity
covers its topics from their historical beginnings to 'tomorrow's nation.'
Werner Sollors, Harvard University <!--end-->
"Gabaccia, a noted specialist in Sicilian and women's immigration history, gives a well-informed, fresh and intelligently idiosyncratic, account of immigrants in North Americafrom the pre-Columbian era to the present day." History


Provides a concise history of American immigrants from the earliest arrivals to the 21st century


Discusses the most controversial and recurring debates over the concept of American nationality


Includes student exercises and sidebars to stimulate classroom discussions