Immortality Defended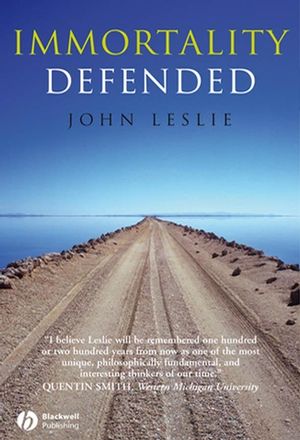 Immortality Defended
ISBN: 978-1-405-18138-9
Apr 2008, Wiley-Blackwell
112 pages
Description
Might we be parts of a divine mind? Could anything like an afterlife make sense? Starting with a Platonic answer to why the world exists, Immortality Defended suggests we could well be immortal in all of three separate ways.




Tackles the fundamental questions posed by our very existence, among them, "why does the cosmos exist?", "is there a divine mind or God?", and "in what sense might we have afterlives?"

Defends a belief in immortality, without the need for a religious affiliation or rejection of modern science

Explores the ideas of "Einsteinian immortality", the divine afterlife, and the theory of an infinite and divine mind

Draws from the work of a wide-range of philosophers, from ancient Greece to the present day, and incorporates up-to-date scientific findings

Written in a thought-provoking and engaging manner, accessible to anyone intrigued by the wonder of our being
Preface.
Acknowledgments.
1. Pantheism: A Rapid Introduction.
2. Platonic Creation.
3. Divine and Human Minds.
4. Immortality.
5. Existence, Causation, and Life.
Appendix: Brief Summary of the Book.
Bibliography.
Index of Names.
Index of Subjects
"John Leslie addresses issues of belief in immortality and the creative role of value in a characteristically lively style, in the course of deploying a variety of arguments. He is always stimulating, even when one disagrees with him."
Revd Dr John Polkinghorne, KBE, FRS<!--end-->
"I believe Leslie will be remembered one hundred or two hundred years from now as one of the most unique, philosophically fundamental, and interesting thinkers of our time."
Quentin Smith, Western Michigan University

"This is an admirable piece of philosophical speculation, in the grand manner of great philosophers in the past, but informed by modern cosmology."
J J C Smart, Monash University


"Thought-provoking … useful to both the professional philosopher and to one just starting … .Touches on a variety of topics … and is exceptionally clear." Religious Studies Review

"Leslie has articulated and defended … the great subjects in the history of philosophy: God, the self, the nature and origin of the cosmos, value, and immortality." Notre Dame Philosophical Reviews


Tackles the fundamental questions posed by our very existence, among them "why does the cosmos exist?", "is there a divine mind or God?" and "in what sense might we have afterlives?"

Defends a belief in immortality, without the need for a religious affiliation or rejection of modern science

Explores the ideas of "Einsteinian immortality", the divine afterlife, and the theory of an infinite and divine mind

Draws from the work of a wide-range of philosophers, from ancient Greece to the present day, and incorporates up-to-date scientific findings

Written in a thought-provoking and engaging manner, accessible to anyone intrigued by the wonder of our being