Immunophenotyping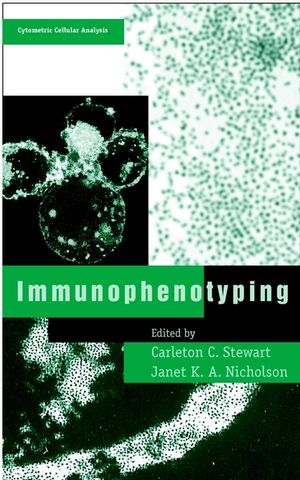 Immunophenotyping
ISBN: 978-0-471-23957-4 April 2000 448 Pages
Description
Immunophenotyping Edited by Carleton C. Stewart and Janet K. A. Nicholson In the last twenty years there has been an explosion of immunophenotyping applications using flow cytometry in the clinical laboratory. Immunophenotyping offers essential information for clinicians and laboratorians about the uses of flow cytometers, identifying abnormalities in a variety of disorders, tools of immunophenotyping, assessing platelets in disease states, and much more. This second volume in the new series, Cytometric Cellular Analysis, comprises all cytometric methods currently used to study cellular function through reviews of the principles, theoretical background, and applications of these methods with particular reference to their use in clinical laboratories. Cellular analytical technologies have revolutionized our ability to identify, isolate, and functionally characterize single cells. This volume addresses one of the most important aspects of flow cytometry as it applies to the clinical setting. In addition, this comprehensive book:
* Discusses methods used for quality controlling immunophenotyping trials
* Reviews various approaches to the use of flow cytometers to quantify fluorescence
* Explains how cell surface receptors differentiate between normal and abnormal tissues for diseases including lymphoma, leukemia, and AIDS
* Describes a new, sensitive flow cytometric immunophenotyping assay for cross-matching in the case of transplants
Imraunophenotyping conveys to researchers, lab supervisors, and scientists working in the areas of flow cytometry, cytology, pathology, hematotogy, immunology, and immunopathology why this outstanding technology is so vital to biomedical research.
Table of contents
Preface

Contributors

1 Kinetics of Antibody Binding to Cells

Carleton C. Stewart and George L. Mayers

2 Flow Cytometry and Quality Control: An Uneasy Alliance

Marc Langweiler and Alice L. Givan

3 Flow Cytometric Analyses of Cell Phenotypes

Doug Redelman

4 Quantitative Immunophenotyping

Abraham Schwartz and Emma Fernández-Repollet

5 Clinical Applications of Quantitative Immunophenotyping

Philippe Poncelet, Isabelle Besson-Faure and Thierry Lavabre-Bertrand

6 Normal Antigen Expression in Hematopoiesis: Basis for Interpreting Leukemia Phenotypes

Michael R. Loken and Denise A. Wells

7 Clinical Applications of Flow Cytometric Immunophenotyping in Acute Lymphoblastic Leukemia

Joseph A. DiGiuseppe and Michael J. Borowitz

8 Immunotyping of Chronic Lymphoid Leukemias and Related Non-Hodgkin's Leukemias

John L. Carey

9 Use of Multiparameter Flow Cytometry and Immunophenotyping for the Diagnosis and Classification of Acute Myeloid Leukemia

Gregory T. Stelzer and Lindsley Goodpasture

10 Residual Disease Detection of Leukemia

Alberto Orfao, Juana Ciudad, Julia Almeida, and Jesus F. San Miguel

11 Immunophenotyping in HIV Infection

Janet K.A. Nicholson and Francis F. Mandy

12 Enumeration of CD34-Positive Hematopoietic Progenitor Cells

Adrian P. Gee and Lawrence S. Lamb

13 Transplantation Immunophenotyping

Robert A. Bray and Howard M. Gebel

14 Flow Cytometric Analysis of Platelets and Platelet Function

T. Vincent Shankey, Walter P. Jeske, and Jeanine M. Walenga

15 Flow Cytometric Analysis of Intracellular Protein Epitopes

James W. Jacobberger

16 Combined Immunophenotyping and Molecular Phenotyping

Charles L. Goolsby, Elizabeth Thompson, and Victoria L. Mosiman

Index
Reviews
"...provides the most comprehensive, readable and informative text I have read in this field, and should be available in every laboratory using a flow cytometer..." (British Journal of Biomedical Science, Vol. 58, 2001)