Impact of Emerging Zoonotic Diseases on Animal Health: 8th Biennial Conference of the Society for Tropical Veterinary Medicine, Volume 1081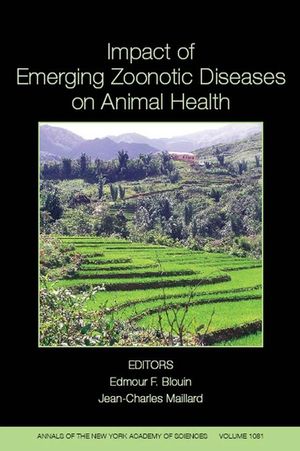 Impact of Emerging Zoonotic Diseases on Animal Health: 8th Biennial Conference of the Society for Tropical Veterinary Medicine, Volume 1081
ISBN: 978-1-573-31637-8
Dec 2006, Wiley-Blackwell
572 pages
Description
The need to protect biodiversity places great constraints on the use of natural spaces such as forests and preserves and often conflicts with the need for sustainable intensification of agricultural and animal production.


Human, domestic animal, and wildlife habitats have increasingly overlapped and have resulted in modified patterns of interaction between wild and domestic animals and humans. In such an environmental context, we can expect to see changes in disease transmission between animals and humans. We have already seen an increase in incidence of previously identified zoonoses, but the recent epidemic crises associated with the emergence of new zoonotic diseases such as severe acute respiratory syndrome (SARS) and avian influenza emphasize our need to understand and control disease emergence.


The necessity for sustained development and growth of animals in the tropics requires that we identify and control factors that contribute to the emergence of these and other diseases. These factors have a direct effect on animal health and our ability to maintain it.


We need to evaluate the risks of emergence at different levels including the optimization of diagnostic tools organization of control and prevention programs. Maintaining animal health in tropical Asian regions has a profound impact on tropical veterinary medicine and during a time of increased international trade and human mobility has implications for animal health worldwide. This volume explores the impact of these emerging zoonotic diseases on animal health in the tropics as well as all aspects of tropical veterinary medicine.

NOTE: Annals volumes are available for sale as individual books or as a journal. For information on institutional journal subscriptions, please visit www.blackwellpublishing.com/nyas.

ACADEMY MEMBERS: Please contact the New York Academy of Sciences directly to place your order (www.nyas.org). Members of the New York Academy of Science receive full-text access to the Annals online and discounts on print volumes. Please visit http://www.nyas.org/MemberCenter/Join.aspx for more information about becoming a member
Introduction:
E. F. Blouin/J-C. Maillard.
Part I: Trends in Emerging Zoonoses.
1. Biodiversity and Emerging Diseases: Jean-Charles Maillard.
2. Perspectives on Applied Spatial Analysis to Animal Health: a Case of Rodents in Thailand: Vincent Herbeteau.
3. Epidemics of the Emerging Animal Diseases and Food-Borne Infectious Problems Over the Last 5 Years in Japan: Itsuro Yamane.
4. Implication of Phylogenetic Systematics of Rodent-borne Hantaviruses on their Distribution: Vincent Herbeteau.
5. Epizootics of Yellow Fever in Venezuela (2004-2005): An Emerging Zoonotic Disease: Pedro Rifakis.
6. Risk Analysis and Bovine Tuberculosis, a Re-emerging zoonosis: François Roger.
7. Status of Mastitis as Emerging Diseases in Improved and Periurban Dairy Farms in India: Sachin Joshi.
8. The Role of Dogs on Epidemiology of Tick-borne Zoonoses: Alesandra Torina.
Part I(a): Surveillance and Control of Zoonoses.
9. Role of Import and Export Regulatory Animal Health Officials in International Control and Surveillance for Animal Disease Programs: Bob Bokma.
10. Regional and International Approaches on Prevention and Control of Animal Transboundary and Emerging Diseases: Joseph Domenech.
11. Linking Human and Animal Health Surveillance for Emerging Diseases in the United States: Achievements and Challenges: Tracy Lynn.
12. Establishment of Monoclonal Antibody-based Immunohistochemistry Method for Bovine Spongiform Encephalopathy (BSE) Surveillance in China: Wu Xiaodong.
13. A serological survey of pigs, horses and ducks in Nepal for evidence of infection with Japanese encephalitis virus: Ganesh Raj Pant.
14. Porcine Innate and Adaptative Immune Responses to Influenza and Coronavirus Infections: Bernard Charley.
15. Ecopathological Approach in Tropical Countries: a Challenge in Intensified Production System: Bernard Faye.
16. Integrated Risk Reduction Along the Food Chain: Elizabeth Mumford.
Part I(b)Trends in Avian Zoonoses.
17. History and Evolution of HPAI Viruses in South East Asia: Vincent Martin.
18. Surveillance for Avian Influenza in the United States: Bob Bokma.
19. Influenza A Virus Surveillance of Migratory Waterfowl in Barbados: Kirk Douglas.
20. Isolation of Avian Influenza Virus A Subtype H5N1 from Internal Contents (albumen & allantoic fluid) of Japanese Quail (Coturnix coturnix japonica) Eggs and Oviduct during a Natural Outbreak: Naruepol Promuntod.
21. Principles for Vaccine Protection in Chickens and Domestic Waterfowl Against Avian Influenza: Emphasis on Asian H5N1 High Pathogenicity Avian Influenza: David Swayne.
22. Vaccines Developed for H5 Highly Pathogenic Avian Influenza in China: Chuanling Qiao.
23. Development and Use of Fowl Pox Vectored Vaccines for Avian Influenza: Michel Bublot.
24. SEPPIC Vaccine Adjuvants for Poultry: S. Ascarateil.
25. West Nile virus in Guadeloupe: Introduction, Spread and Decrease in Circulation Level: 2002-2005: Thierry Lefrancois.
26. Serological Assessment of West Nile Virus Activity in the Pastoral System of Ferlo (Senegal): Véronique Chevalier.
Part II. Trends in the Study of Disease Agents.
Part II(a) Virology and Bacteriology.
27. Genotyping of Newcastle Disease Viruses Isolated from 2002 to 2004 in China: Zhiliang Wang.
28. Descriptive and Spatial Epidemiology of Rift Valley Fever Outbreaks in Yemen (2000-2001): S. Abdo-Salem.
29. Efficacy of DNA Immunization with F and G Protein Genes of Nipah Virus: Bu Zhigao.
30. Generating Vesicular Stomatitis Virus Pseudotypes bearing the Severe Acute Respiratory Syndrome Coronavirus Spike Envelope Glycoprotein for Rapid and Safe Neutralization Test or Cell Entry Assay: Bu Zhigao.
31. Prevalence of Salmonella spp in Various Raw Meat Samples of Kathmandu Local Market: Mahendra Maharjan.
32. Prevalence of Salmonella spp in Retail Chicken Meat in Hanoi, Vietnam: Luu Huong Quynh.
33. Study on Salmonella, Campylobacter and Escherichia coli Contamination of Raw Food available in Factory, School and Hospital Canteens in Hanoi, Vietnam: Ha Thi Anh Dao.
34. Prevalence of Salmonella spp. in Poultry in Vietnam: Thi Hanh Tran.
35. Prevalence and Epidemiology of Salmonella spp. in Small Pig Abattoirs of Hanoi, Vietnam: Cedric Le Bas.
36. Study on prevalence of Campylobacter spp. from chicken meat in Hanoi - Viet Nam: Luu Quynh Huong.
37. Characterization of Lactic Acid Bacteria and other Gut Bacteria in Pigs by a Macro-arraying Method: Narut Thanantong.
38. Porcine Eperythrozoonoses in China: Jiansan Wu.
Part II(b) Protozoa.
39. Bovine Transcriptome Analysis by SAGE Technology during an Experimental Trypanosoma congolense Infection: David Berthier.
40. The Trypanosomosis in the Goat. Current Status: Carlos Gutierrez.
41. Detection of T.b.rhodesiense Trypanosomes in Humans and Domestic Animals in South East Uganda by Amplification of Serum Resistance Associated Gene: JCK Enyaru.
42. Trypanosomiasis in Domestic Animals of Makwanpur District, Nepal: Mahendra Maharjan.
43. Prevalence of Trypanosoma evansi Infection in Equines and Camels in the Punjab Region, Pakistan: M. Hassan.
44. Clinical, Hematological and Biochemical Findings in an Outbreak of Abortion and Neonatal Mortality associated with Trypanosoma evansi Infection in Dromadery Camels: Carlos Gutierrez.
45. Prevalence of Cryptosporidium among Dairy Cows in Thailand: Sathaporn Jittapalapong.
46. Leishmania infantum Strains Characterization by Microsatellite Investigation: Stefano Reale.
47. Toxoplamosis in Piglets: Anyarat Thiptara.
Part II(c) Helminths.
48. Cysticercosis Of Slaughter Cattle In South Eastern Nigeria: Maxwell Opara.
49. Use of Bacillus thuringiensus Toxin as an Alternative Method of Control of Haemonchus contortus: Maria Lopez.
50. Biological Control of Gastro-intestinal Parasitic Nematodes Using Duddingtonia flagrans in Sheep under natural conditions in Mexico: Pedro Mendoza de Gives.
51. Prevalence of Fasciola spp. in Cattle in Le Loi, Vietnam: Bui Khanh Linh.
52. Differentiation of Teniae sp. by Morphological Examination and by PCR-RFLP: Nguyen Thi Lan Anh.
Part II(d) Ticks and Tick-Borne Diseases.
53. New Findings on Anaplasmosis caused by infection with Anaplasma phagocytophilum: Eugenio Lillini.
54. Seasonal A. marginale & A. phagocytophilum Diffusion in Dairy Cow in Sicily: Alesandra Torina.
55. Molecular Diagnosis of Granulocytic Anaplasmosis and Infectious Cyclic Thrombocytopenia by PCR-RFLP: Alberto Alberti.
56. Development of an Immunosensor for the Diagnosis of Bovine Anaplasmosis: Marta Silva.
57. Identification of Common Antigens in Babesia bovis, B. bigemina and B. divergens: Julio Figueroa.
58. Evaluation of cattle inoculated with Babesia bovis clones adhesive in vitro to bovine brain endothelial cells: Germinal Canto.
59. Bovine Babesiosis Live Vaccine Production: Use of Gamma Irradiation on the Substrate: Carmen Rojas.
60. Babesia bigemina: Development of a Live Vaccine from an Attenuated Central Asian Isolate: Varda, Shkap.
61. Comparative genomics of E. ruminantium: Roger Frutos.
62. Emerging Tick-borne Diseases in African Vipers caused by a Cowdria-like Organism: Johnathan Kiel.
63. Identification and characterization of merozoite antigens of a Theileria species highly pathogenic for small ruminants in China: Joana Miranda.
64. Purification of Macroschizonts of a Sudanese Isolate of Theileria lestoquardi (T. lestoquardi ): Mohammed Bakheit.
65. Identification of Potential Antigenic Proteins of Theileria lestoquardi: Mohammed Bakheit.
66. The Host Response in the Sheep Artificially Infected with Theileria sp. (China): Wu Jiansan.
67. Identification of Homologous Genes of T. annulata Proteins in the Genome of Theileria sp. (China): Joana Miranda.
68. Epidemiology of Theileria annulata Infection of Dairy Cattle in Sudan using Molecular Techniques: Awadia Ali.
69. Investigation of MAP Kinase Activation in Theileria annulata-Infected Cell Lines: Ulrike Seitzer.
70. Dermal mast cells counts in F2 Holstein x Gir crossbred cattle artificially infested with ticks Boophilus microplus (Acari: Ixodidae): Jair Engracia Filho.
71. Detection of Hepatozoon Infections in Stray Dogs and Cats of Bangkok, Thailand: Sathaporn Jittapalapong.
72. Renitelo Cattle Dermatophilosis and PCR-RFLP Analysis of MHC Gene: Hanta Razafindraibe.
Part II(e) Piroplasm Phylogenetics and Implication for Livestock and Human Infection.
73. Polyphasic Taxonomy: Gerrit Uilenberg.
74. Phylogenic Position of Small Ruminant Infecting Piroplasms: Jabbar Ahmed.
75. Phylogenetics of Theileria Species in Small Ruminants: Olivier Sparagano.
76. Molecular Sequence Evidence for the Reclassification of some Babesia Species: Paula Allsopp.
77. Phylogenetic and Biologic Evidence that Babesia divergens Is Not Endemic in the United States: Patricia Holman.
Part III: Trends in Porcine Health.
78. PigTrop Website http://pigtrop.cirad.fr: an Internet Portal Dedicated to Pig Production and Wild Suids in Tropics: Vincent Porphyre.
79. Local Epidemio-surveillance in Swine Diseases in Northern Vietnam: Description and Preliminary Results: Vincent Porphyre.
80. A Study of Oedema Disease in Pigs in Vietnam with Particular Reference to the Use of Autovaccine for Prevention of Disease: Cu Huu Phu.
81. Preliminary Analysis of Tetracycline Residues in Marketed Pork in Hanoi, Vietnam: Duong Van Nhiem.
82. Antimicrobial Resistance Phenotypes of ETEC Isolates from Piglets with Diarrhoea in North Vietnam: Do Ngoc Thuy.
83. Influence of Different Diets to Growth Performance, Meat Quality and Resistance of Pig Crossbreeds (PIE x MC-local ) and PIE (LW x MC- local): Nguyen Quang Linh.
Part IV: Dedication.
85. Dedication: Jim C. Williams: Katherine M. Kocan.