Imperial Island: A History of Britain and Its Empire, 1660-1837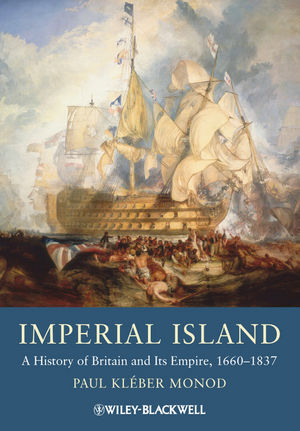 Imperial Island: A History of Britain and Its Empire, 1660-1837
ISBN: 978-1-405-13445-3 March 2009 Wiley-Blackwell 444 Pages
Description
Imperial Island: A History of Britain and its Empire, 1660-1837
is a comprehensive account of Great Britain's imperial path from the Stuart Restoration of 1660 to its emergence as a dominant global superpower.
Suitable for students with no prior knowledge of British history
Organized to help students and instructors: comprises 21 thematic chapters set within a clear, chronological framework
Includes over 30 illustrations and maps to help orient the reader
Addresses the new generation of American and British students that are interested in global, environmental, and cultural history
Cannot be combined with any other offers.
Original Price:$122.90
Purchased together:$92.18
save $30.72
Table of contents
List of Illustrations.
List of Maps.
Preface.
A Note on Currency.
Frequently Used Abbreviations.
Part I: Nations, Lands, Peoples.
1 Nations and Kingdoms.
2 Landscapes in Motion.
3 Knowing One's Place.
Part II: Party Strife and Revolution, 1660–1689.
4 The Culture of Politics.
5 Preserving the Constitution.
6 A Disjointed Empire.
Part III: The Legacy of Revolution, 1689–1722.
7 The Fortunes of War, 1689–1710.
8 The Crisis of the Hanoverian Succession, 1710–1722.
9 Art, Science, and Politics.
Part IV: State and Empire, 1722–1760.
10 Whigs and Patriots.
11 Polite Society and Its Discontents.
12 An Empire Emerging.
Part V: The Fall of the First British Empire, 1760–1784.
13 The Patriot King, 1760–1770.
14 The American Crisis, 1770–1784.
15 The Wealth of a Nation.
Part VI: Britain Against Revolution, 1783–1815.
16 The Nation Preserved.
17 Remaking the Empire.
18 Enlightened Culture.
Part VII: A New Order Begins, 1815–1837.
19 The State Reformed.
20 A Class Society.
21 Imperial Portraits.
Conclusion.
Notes.
Bibliography.
Index.
Reviews
"Paul Monod manages to pack in a very great deal and the style is easy, accessible and informative. This, then, is a book to recommend." (
The Journal of the Historical Society
, 2010)
"This book brings together in one resource information that has previously been available only in small fragments widely distributed throughout the literature of different disciplines and, additionally, highlights the unifying concepts in a very diverse discipline." (
Doody's
, February 2010)
"The combination of completeness and conciseness with an attractive style is very difficult to master. This is an outstandingly good example of how it ought to be done. It is written in a relaxed, flowing prose, always accessible and often witty, which carries the reader effortlessly forward. ... A book that gives a strong and pleasing impression of a gifted teacher in full command of his subject." (The International History Review, December 2009)
Features
Suitable for students with no prior knowledge of British history

Organized to help students and instructors: comprises 21 thematic chapters set within a clear, chronological framework

Includes over 30 illustrations and maps to help orient the reader

Addresses the new generation of American and British students that are interested in global, environmental, and cultural history