Implementing CRM: From Technology to Knowledge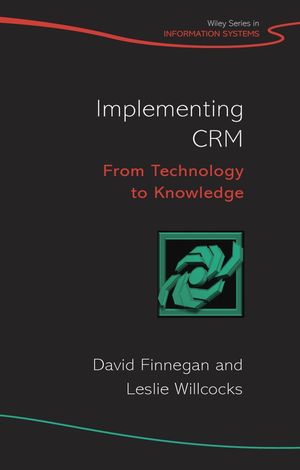 Implementing CRM: From Technology to Knowledge
ISBN: 978-0-470-98540-3
Jul 2011
342 pages
Description
The authors focus on the actuality of implementing CRM. They uncover the micro political, behavioural, psychological and knowledge issues that are all too often neglected in CRM implementations.

Implementing CRM links CRM systems implementation with organizational change for the first time. It looks into the factors that distinguish firms that are more capable of connecting with their customers and awarded with customer loyalty with firms that are not as successful. Implementing CRM provides frameworks and ideas for how implementing CRM can be better handled.
About The Authors.
Series Preface.
Preface.
Chapter 1 Introduction and CRM Overview.
Chapter 2 -  Positioning CRM As IT-Enabled Business Change.
Chapter 3 - Implementing CRM: The Neglected Roles of Culture, Knowledge and Psychological Contracts.
Chapter  4 –  Tools For Investigation: Pilot Study, Methods and Frameworks.
Chapter 5 – CRM Implementation Case: A UK City Council (UKCC).
Chapter 6 – CRM Implementation Case: An International Enterprise (IE).
Chapter 7 Cross-Case and Cross-Sector Comparisons: What Can We Learn?
Chapter 8 – Conclusion: CRM Developments.
References.
Appendix  – A Note On Research Methodology.
Index.
The only textbook to tackle the link between the implementation of CRM through IT and organizational change.

Describes the micro-processes that occur on a daily basis in a company.

Explores problem solving, communication between employees, inter-departmental conflicts and single customer relationships.

Provides frameworks and ideas on how implementing CRM can be better handled.