Implementing Change with Clinical Audit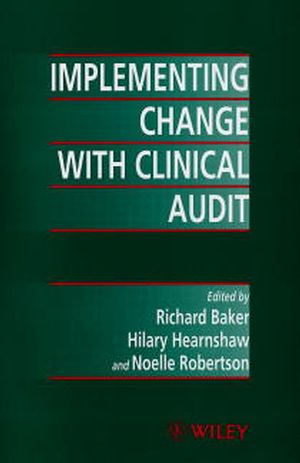 Implementing Change with Clinical Audit
ISBN: 978-0-471-98257-9
Jan 1999
200 pages
Description
Clinical audit, the systematic critical analysis of medical care, receives comprehensive and illuminating treatment in this definitive introduction. The authors cover all the knowledge and skills required to implement change in clinical practices based on results of the multiprofessional clinical audit. Discussing various designs for audit projects as well as specific methods of data collection and analysis, the book uses real-world case studies to demonstrate each technique's effectiveness.
The Role of Clinical Audit in Changing Performance (R. Baker).

Evidence and Audit (R. Baker).

A Systematic Approach to Managing Change (N. Robertson).

Overcoming Obstacles to Changes (H. Hearnshaw & R. Baker).

Audit and Learning (G. Brown, et al.).

Audit Across Interfaces (M. Eccles, et al.).

Good Clinical Audit Requires Teamwork (C. McCrea).

Implementing Change with Audit: The Role of Management (J. Shapiro).

Internal Communications and the Management of Change (O. Hargie & D. Tourish).

Getting the Message Across -
Language, Translation, Marketing and Selling (R. Eve & P. Hodgkin).

Index.