Implementing Effective Policies for Remedial and Developmental Education: New Directions for Community Colleges, Number 100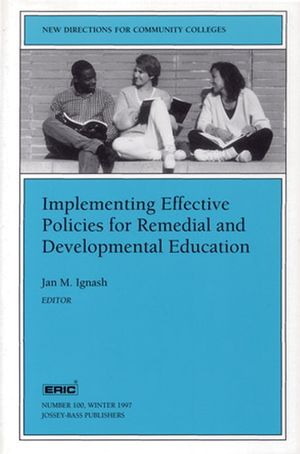 Implementing Effective Policies for Remedial and Developmental Education: New Directions for Community Colleges, Number 100
ISBN: 978-0-787-99843-1
Jan 1998, Jossey-Bass
98 pages
Description
In 1894, forty percent of college freshmen enrolled in pre-collegiate programs to prepare for regular college coursework. In Fall 1995, twenty-nine percent of entering freshmen enrolled in at least one remedial course. The debate over the need for, and appropriateness of, remedial and developmental education at the postsecondary level has spanned a century. The 1998 Reauthorization of the Higher Education Act has added fuel to the debate. Legislators, educators, and the general public are asking questions and raising accountability issues. Who needs remedial and developmental education? Why does the need for it appear to be increasing? How much does it cost? Who should pay for it? Are remedial and developmental programs effective? Who should provide it? Legislators and the public are upset over the perception that they are paying twice for the same education--once in high school and once again in college. Educators are concerned about the potential devaluation of higher education through the provision of large amounts of remedial and developmental education. And students, too, are unhappy with the time and expense necessary to develop English and math skills that they should have learned in high school. Each chapter of this volume addresses a specific policy question involved in the debate over remedial and developmental education and uses national and state data, as well as information from case studies of individual institutions, to provide insights into effective approaches to remedial and developmental education.

This is the one hundredth issue of the quarterly journal New Directions for Community Colleges.
Who Should Provide Postsecondary Remedial/Developmental Education? (J. Ignash).
Remedial/Developmental Education Approaches for the Current Community College Environment (V. McMillan, et al.).
Mandatory Assessment and Placement: The View from an English Department (D. Berger).
Structured Versus Laissez-Faire Open Access: Implementation of a Proactive Strategy (R. Fonte).
Quality Versus Quantity in the Delivery of Developmental Programs for ESL Students (R. Kurzet).
Community College/High School Feedback and Collaboration: Preventive Measures (D. Richey, et al.).
Using Research to Evaluate Developmental Education Programs and Policies (J. Weissman, et al.).
Financial Aid and the Developmental Student (M. Goldstein).
Sources and Information About Remedial/Developmental Education Programs (K. McKinney).