Implementing Organizational Interventions: Steps, Processes, and Best Practices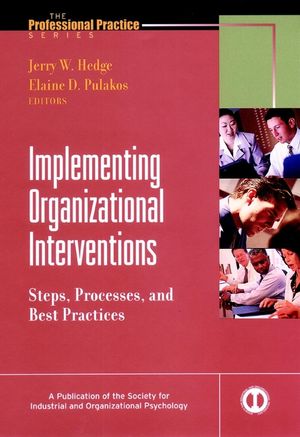 Implementing Organizational Interventions: Steps, Processes, and Best Practices
ISBN: 978-0-787-95722-3 April 2002 Pfeiffer 352 Pages
Description
With emphasis on actually implementing organizational interventions in a variety of cultures and climates, this nuts-and-bolts guide covers all the bases. It not only provides readers with expert advice on confronting the variables that effect a broad array of organizational interventions, but also offers practical guidance for increasing the probability of success. Chapters are arranged around major content areas, including staffing, performance management, reward systems, and organizational strategy, and focus on the primary steps involved, issues that must be considered, and decisions that must be made. First-hand accounts by the contributors illuminate real-world application.
Foreword (Eduardo Salas).

Preface.

The Authors.

1 Grappling with Implementation: Some PreliminaryThoughts and Relevant Research (Jerry W. Hedge, Elaine D. Pulakos).

2 Implementing Organizational Change (Carolyn A. Gallagher, Lennox E. Joseph,Maria Veronica Park).

3 Mergers and Acquisitions (Mitchell Lee Marks).

4 Succession Planning (Ben E. Dowell).

5 Information Technology (David W. Dorsey).

6 Implementing Reward Systems (Paul W. Mulvey, Gerald E. Ledford Jr.).

7 Performance Management (Nancy L. Rotchford).

8 Implementing Training: Some Practical Guidelines (Mark S. Teachout, Craig R. Hall).

9 Issues in Implementing Large-ScaleSelection Programs (Nancy T. Tippins).

10 Going Global: Additional ConsiderationsInherent in Cross-Cultural Implementation (Scott L. Eggebeen).

11 Concluding Comments: The Role ofOrganizational Culture in ImplementingOrganizational Interventions (Elaine D. Pulakos, Jerry W. Hedge).

Index.