Implementing the Wealth Management Index: Tools to Build Your Practice and Measure Client Success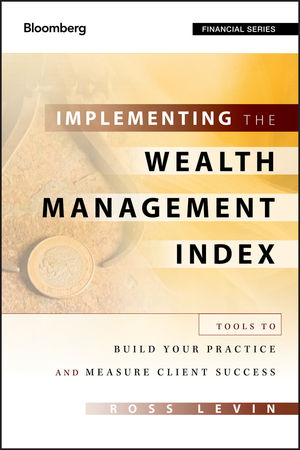 Implementing the Wealth Management Index: Tools to Build Your Practice and Measure Client Success
ISBN: 978-1-118-15978-1
Sep 2011
288 pages
Description
The gold standard for measuring financial progress, updated for today's market
From Ross Levin, a trusted financial planner, comes Implementing the Wealth Management Index. The new edition of the book Investment Advisor called a "landmark opus," this revised and updated volume expands upon his legendary Wealth Management Index tool. A benchmark system that, through a series of questions and evaluations, enables advisors to score their performance for individual clients, the tool is used by firms around the world. In this new edition, the index looks at asset protection, disability and income protection, debt management, investment planning, and estate planning.
The new edition adds more how-to information, as well as actual client examples and case studies to show how Levin's firm successfully uses the index as a daily strategy.
Asks the important questions, like "Did you use all reasonable means to reduce your taxes?" and "Have you established and funded all the necessary trusts? Have you made your desired gifts for this year?
Newly revised and expanded for the first time since 1997
Essential guidance from a top man in the game, Implementing the Wealth Management Index is the one-stop resource for measuring client financial progress.
Introduction xi
CHAPTER 1 Turning a Concept into a Practice 01
The Format 02
The Wealth Management Index Overview 03
The Wealth Management Index 04
Conclusion 11
CHAPTER 2 Building and Operating a Practice 13
What Do You Want to Be When You Grow Up? 13
Partners 21
Broader Ownership 23
Conclusion 32
CHAPTER 3 Growing Your Business 33
Quantitative Prospect Metrics 33
Behavioral Types of Prospects 35
The Prospect Meeting 39
Questions 42
Other Questions 46
Next Steps 47
Conclusion 49
CHAPTER 4 Developing Staff 51
The Client Team 51
Leadership Pipeline 52
Conclusion 52
CHAPTER 5 Training Staff in Using the Wealth Management Index 65
The New Hire Process 65
Conclusion 83
CHAPTER 6 The Work Plan 85
Pre-meeting 85
Post-meeting 87
Agenda 92
Conclusion 92
CHAPTER 7 Objective Setting 95
Asset Protection 95
Disability and Income Protection 98
Debt Management 103
Investment Planning 105
Estate Planning 107
Conclusion 112
CHAPTER 8 Scoring the Wealth Management Index 113
Spreadsheet 114
CHAPTER 9 Asset Protection (Preservation) 117
Components 119
Have You Articulated a Life Insurance Philosophy? 119
What Are Your Concerns Regarding Risks of Large Losses from 128
Medical, Long- Term Care, Property/Casualty, and Personal or Professional Liability Issues?
Have You Defi ned and Protected Your Business Interests? 138
Conclusion 142
CHAPTER 10 Disability and Income Protection (Protection) 145
What Are the Income and Lifestyle Needs and Wants of Your Family 147
Currently and Prospectively?
Have You Evaluated All Current Sources of Income and Potential 159
Changes to These Sources?
Are You Fully Utilizing All Benefits Available to You? 168
Conclusion 189
CHAPTER 11 Debt Management 191
Have You Established Your Philosophy Regarding 192
Using Savings or Credit?
Is Your Type of Debt Appropriate Given Your Wealth-Management 196
Objectives?
Conclusion 201
CHAPTER 12 Investment Planning (Accumulation) 203
Have You Developed an Investment Philosophy? 205
Have You Determined the Mechanics for Managing Your Portfolio 222
and the Evaluation of What Success Looks Like?
Conclusion 228
CHAPTER 13 Estate Planning (Distribution) 231
Have You a Philosophy on Wealth Transfer? 232
Have You Articulated Your Charitable Philosophy or Mission Statement? 244
Have You Planned For Incapacitation, Elder Care Issues, 248
and Final Planning Needs?
Conclusion 251
Epilogue 253
About the Author 255
Index 257