Improving On-the-Job Training: How to Establish and Operate a Comprehensive OJT Program, 2nd Edition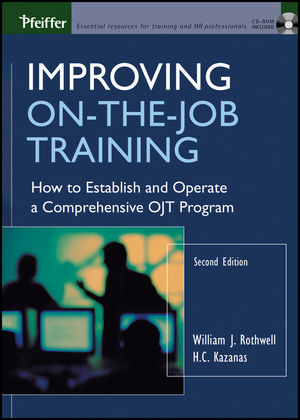 Improving On-the-Job Training: How to Establish and Operate a Comprehensive OJT Program, 2nd Edition
ISBN: 978-1-118-80095-9
Feb 2004, Pfeiffer
208 pages
Description
This second edition of the best-selling book, Improving On-The-Job Training, provides professional trainers, HR managers, and line managers with a hands-on resource for installing a low-cost, low tech approach to planned on-the-job training program that will improve real-time work performance throughout an entire organization. A comprehensive volume, Improving On-The-Job Training
Offers guidelines for establishing an OJT program.
Outlines the key management issues that should be addressed when starting up a program.
Describes effective methods of training the trainers and learners.
Shows how to identify the need for planned on-the-job-training.
Explains how to analyze work, worker, and workplace OJT.
Offers vital information for preparing and presenting on-the-job training.
Illustrates how to evaluate results of OJT.
Describes aids to planned on-the-job training.
Includes six valuable lessons about planned OJT programs.
List of Tables, Figures, and Exhibits xi
Introduction: Getting the Most From This Resource xiv
Why Improve OTJ? xv
Purpose xvii
Overview of the Contents xvii
Pretest: Does Your Organization Need a Planned On-the-Job Training Program? xix
The Pretest xix
Scoring and Interpreting the Pretest xxi
PART ONE: FOUNDATIONS OF OJT: Building an Effective Organizational Climate to Support OJT 1
1 The Benefits of Effective On-the-Job Training 3
Unplanned OJT: A Case Study 4
Importance of OJT 5
Coaching, Mentoring, and OJT 7
A Short History of Planned OJT 8
Research on Planned OJT 9
Barriers to OJT 11
Surmounting Barriers to OJT 12
Summary 13
2 Building the Right Foundation: From Identifying Goals to Establishing an Action Plan 14
Determine Program Purpose 14
Clarify Program Goals and Objectives 17
Identify Program Customers 18
Formulate Program Policy and Philosophy 19
Develop Program Action Plan and Schedule 10
Summary 20
3 Ensuring Sound Management and Consistent Results 21
Oversight Responsibility 21
Rewards and Incentives 23
Budgeting and Funding 25
Record Keeping 26
Summary 27
4 Preparing Trainers and Learners 28
Training the Trainers 28
Training the Learners 35
Summary 41
PART TWO: PREPARING AND DELIVERING OJT 43
5 Discovering Needs: How to Determine When OJT Is Appropriate 45
The DAPPER Model 45
Questions That Determine OJT Needs 46
Summary 57
6 Analyzing Work, Worker, and Workplace: How to Fit the Training to the Job 59
Work Analysis 59
Worker Analysis 69
Workplace Analysis 74
Summary 74
7 Preparing the Training Plan: How to Develop the Right Sequence of Activities 76
Steps for Preparing OJT 76
Designing Instructional Materials 80
Summary 93
8 Presenting the Training: How to Conduct the OJT Session 96
Desirable Characteristics of Trainers and Learners 96
Steps Governing OJT Presentation 98
Summary 102
9 Evaluating Results: How to Assess Post-Training Job Performance 104
OJT and Kirkpatrick's Levels of Evaluation 104
Level 1: Evaluating Reactions 105
Level 2: Evaluating Learning 108
Level 3: Evaluating Behavioral Change 111
Level 4: Evaluating Organizational Results 114
OJT and the Balanced Scorecard 118
Summary 118
10 Reviewing Aids and Alternatives to OJT: How to Ensure the Right Mix of Performance Interventions 119
Determining Whether an Aid or Alternative Is Needed 119
Aids to OJT 120
Additional Tools to Support OJT 128
Researching Corporate Culture-Specific Competency Development Strategies 134
Summary 139
PART THREE: REFLECTIONS ON OJT 141
11 Six Important Success Factors for Comprehensive OJT Programs 143
Success Factor 1: Avoid Discrimination in OJT 143
Success Factor 2: Enlist the Participation of Key People 144
Success Factor 3: Encourage the Preparation of Current Job Descriptions—But Plan for the Future 145
Success Factor 4: Integrate Internship, Cooperative Education, and Apprenticeship Programs with OJT 145
Success Factor 5: Establish Measurable Job Performance Standards and Objectives and Link Them to OJT 148
Success Factor 6: Plan for Cross-Training and Multiskilling 149
Glossary 153
References 156
About the Authors 167
Index 169
Pfeiffer Publications Guide 179