Improving Safety in the Chemical Laboratory: A Practical Guide, 2nd Edition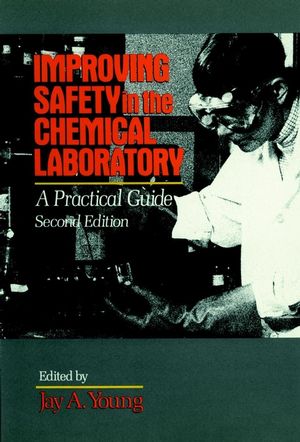 Improving Safety in the Chemical Laboratory: A Practical Guide, 2nd Edition
ISBN: 978-0-471-53036-7
Jun 1991
432 pages
Description
The work of accident prevention in the lab begins with foresight. Discerning "close calls"--near accidents--early enough prevents them from turning into full-fledged mishaps, mishaps that cost time and money, and which could result in injury. Improving Safety in the Chemical Laboratory is an accident prevention handbook for the professional in the lab that shows how to detect and eliminate the causes of dangerous mishaps--and virtually "hazard proof" any lab environment. In unequivocally clear and practical terms, Improving Safety in the Chemical Laboratory, Second Edition offers detailed procedures--from precautionary labeling to simulated drills, safety inspections,and the preparation of a chemical hygiene plan--for the development of a safety-enhanced workplace. Reflecting, in part, the upgraded procedures now mandated by the OSHA Laboratory Standard in the USA, as well as the WHMIS regulations in Canada and the COSHH regulations in the United Kingdom, this newest edition offers unparalleled and up-to-date guidance on the fine points of hazard control, with new added material on managing and handling especially hazardous substances and personal protective equipment:
* The 95 percent solution: the list of causes of laboratory accidents
* Hazard categories: unsafe acts; unsafe conditions
* Selecting and maintaining personal protective conditions
* Accident handling
* Classes of fuels and fires
* Preventing and extinguishing fires
* Toxic effects of chemicals
* Recognition of and treatment for exposure
* Chemical specific safety protocol
* Storage of lab chemicals
* Safe disposal of hazardous waste
* Personal protective equipment in the laboratory
* Improving hood performance
* Designing safety into new or renovated laboratories
A comprehensive, one-volume safety seminar, Improving Safety in the Chemical Laboratory will provide indispensable guidance to lab supervisors and workers, teachers and students, and anyone involved in the investigation of chemical accidents and injury. In clear language that quickly details the full range of hidden--and avoidable--laboratory hazards, Improving Safety in the Chemical Laboratory, Second Edition offers the most up-to-date, practical, and easy-to-implement lab safety regimen yet available.
Organization for Safety in Laboratories.

Precautionary Labels and Material Safety Data Sheets.

Doing It Right.

The 95 Percent Solution.

Safety Inspections, Safety Audits.

A Chemical Hygiene Plan: Preparing/Reviewing.

Flammability, Combustibility.

Chemical Reactivity: Instability and Incompatible Combinations.

Toxic Effects of Chemicals.

Handling and Management of Particularly Hazardous Substances.

Other Hazards.

Storage of Laboratory Chemicals.

Federal Regulations in the United States.

Safe Disposal of Hazardous Waste.

Laboratory Regulations in Canada.

Laboratory Regulations in the United Kingdom.

Air Monitoring in the Chemical Laboratory.

Personal Protective Equipment in the Laboratory.

Designing Safety into the Laboratory.

Laboratory Hoods.

Using Audiovisual Materials in Safety Training.

Laboratory Safety Library Holdings.

Acronyms.

Index.