Improving Staffing Practices in Student Affairs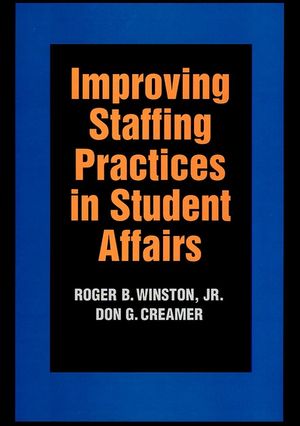 Improving Staffing Practices in Student Affairs
ISBN: 978-0-787-90851-5
Apr 1997, Jossey-Bass
392 pages
Description
Most of us are not born good supervisors. Winston and Creamer's book gives us a comprehensive framework for thinking about and reexamining our staffing practices. It is an excellent tool for the novice and the veteran.
?Elizabeth M. Nuss, vice president and dean of students, Coucher College

This book presents the state-of-the-art of staffing practices in student affairs and provides practical recommAndations for improvement. It is filled with illustrative examples, helpful case studies, and down-to-earth suggestions that offer an integrated approach to the selection, orientation, supervision, development, and evaluation of staff.
Contexts and Values for Staffing in Student Affairs.

A Model for Staffing Practice in Student Affairs.

Current Staffing Practices: Case Studies.

Current Staffing Practices: Survey Report.

Recruitment and Selection of Staff.

Orienting Staff to New Positions.

Supervising and Managing Staff.

Staff Development.

Performance Appraisal.

Staffing Practices That Ensure Quality in Student Affairs.
"The authors of this book provide student affairs practitioners with a plethora of information that has not been documented in writing by student affairs administrators.... This book provides the framework for student affairs administrators to critically review their current mode of operation in terms of staff selection." (NASAP Journal)

?Most of us are not born good supervisors. Winston and Creamer's book gives us a comprehensive framework for thinking about and reexamining our staffing practices. It is an excellent tool for the novice and the veteran.? (Elizabeth M. Nuss, vice president and dean of students, Coucher College)

?Two resourceful scholars Roger Winston and Don Creamer, draw on the literature [in the field], experience, and a solid national study to provide a comprehensive account of how professional values influence staffing practices. The result is a wonderful illustration of the connection between good staffing practices and the overall quality of student affairs programs.? (Dudley B. Woodard, Jr., professor, Center for the Study of Higher Education, University of Arizona)

?The authors have designed creative and critical strategies for the improvement of staffing practices; good staffing is crucial to student learning and personal development and a necessity for quality assurance in student affairs." (Phyllis Mable, vice president of student affairs, Longwood College)

?Winston and Creamer hit the mark with their claim that it is the people who make the difference in the quality of educational programs and services in student affairs. Colleges and universities must pay more attention to this vital aspect of their operations if they want to achieve excellence, and this book is most helpful in paving the way.? (Terry O'Banion, executive director, League for Innovation in the Community College)