In Adam's Fall: A Meditation on the Christian Doctrine of Original Sin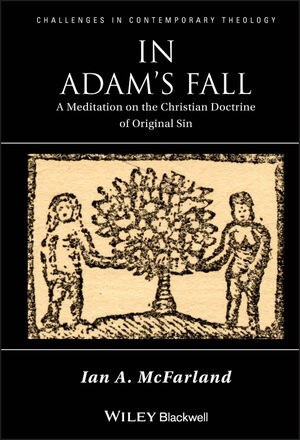 In Adam's Fall: A Meditation on the Christian Doctrine of Original Sin
ISBN: 978-1-444-35165-1
Jun 2011, Wiley-Blackwell
256 pages
Description
This engaging and scholarly book offers refreshingly original insights into the contemporary relevance of the Christian doctrine of original sin – one that has inspired fierce debate for the last two millennia.
Challenges the many prevailing opinions about the Christian doctrine of original sin, arguing that it is not only theological defensible, but stimulating and productive for a life of faith
Shows how it is possible to affirm the universality of sin without losing sight of the distinct ways in which individuals both participate in and suffer the consequences of sinful behavior
Balances historic and contemporary criticism with original theological arguments; combining the substance of a traditional Augustinian doctrine of sin with the pastoral and social concerns of contemporary contextual theologies
Provides a depth and range of engagement with contemporary criticism of traditional doctrine that is lacking in other recent treatments of the topic
Preface.
Acknowledgments.
Part I: Setting the Stage: The Problem of Original Sin:.
1. Creation Gone Wrong: Thinking about Sin.
A Doctrine Grown Strange.
Biblical Configurations of Sin.
Contemporary Attempts to Reclaim Sin-Talk.
Original Sin and Actual Sin.
2. Original Sin as Christian Doctrine: Origins, Permutations, Problems.
The Emergence of the Doctrine.
The Augustinian Turn.
Augustinian Revisions.
Assessment.
Part II: Reconfiguring the Debate: Sin, Nature, and the Will:.
3. Augustine of Hippo: Willing and the Ambiguity of Desire.
Augustine's Views in Outline.
Concupiscence: Humanity Internally Divided.
The Fall: Humanity Temporally Divided.
Assessing Augustine's Doctrine of the Will .
4. Maximus the Confessor: Willing Is Not Choosing.
Maximus' Christology in Context.
Dyothelite Christology in Outline.
Maximus' Analysis of the Will.
Maximus' Interpretation of Christ's Willing.
Anthropological Implications.
Conclusion.
5. The Status of Christ's Will: Fallen or Unfallen?.
The Question in the Tradition.
Preliminary Assessment.
The Problem of Christ's Will.
Theological Implications.
Part III: Reconstructing the Doctrine: Original Sin in Christian Practice:.
6. Original Sin and Human Nature: Solidarity in Sin.
Original Sin and the Damaged Will.
The Problem of the Origin of Original Sin.
Reconceiving the Ontology of Original Sin.
7. Original Sin and the Individual: Being a Sinner.
The Scope of Sin.
Sin and Agency.
From Actual Sin to Original Sin.
8. Original Sin and the Christian Life: Confronting Sin.
From Original Sin to Actual Sin.
Original Sin as Unbelief.
Vocation and the Defeat of Sin.
Conclusion.
References.
Index.
"Modest in length, but rich in substance … even those who demur from McFarland's thesis will learn much from a work of competent theology which takes seriously and strives to protect key components in Augustine's understanding of original sin."  (Evangelical Quarterly, 2 April 2012)
"Written from an ecumenical Reformed perspective heavily indebted to Augustine and arguably Barth, the book's strength lies in its sophisticated argument in favor of Augustine's enduring relevance to ecclesial life generally and the doctrine of original sin specifically, especially the illuminating discourse on willing which paints a surprisingly complex view of the will in concrete acts of sin."  (Religious Studies Review, 1 December 2011)
"Overall, In Adam's Fall is an engaging and historically-informed reflection on a difficult aspect of Christian teaching that stimulates constructive dialogue and further examination." (Studies in Religion, 2012)
"Libraries that support advanced classes in theology will find this a worthwhile addition. Recommended. Upper-level undergraduates and above." (Choice, 1 May 2011)
"Engagingly written and infused with scholarly sophistication. In Adam's Fall offers refreshingly original insghts into the contemporary relevance of a doctrine of Christian teaching that has inspired fierce debate for over 1,500 years." (Zentrum für Augustinus-Forschung, 2011)
"While unapologetically academic in style, I found this to be most engagingly written and there are few academic books over recent years that have brought me as much pleasure and provoked my thinking to such a degree." (Regent's Reviews, 1 April 2011)