In Defense of Reading: Teaching Literature in the Twenty-First Century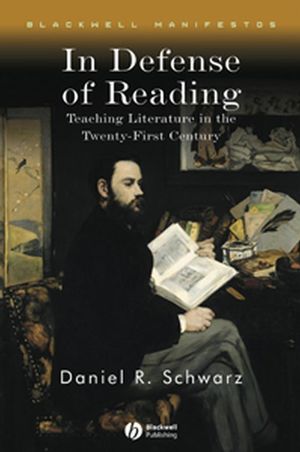 In Defense of Reading: Teaching Literature in the Twenty-First Century
ISBN: 978-1-444-30484-8 January 2009 Wiley-Blackwell 216 Pages
Description
Written by influential scholar-critic and award-winning Daniel R. Schwarz, In Defense of Reading: Teaching Literature in the Twenty-First Century is a passionate and joyful defense of the pleasures of reading. This stimulating book provides valuable insights for teachers and students on why we read and how we read when we embark on "the odyssey of reading."
Provides valuable insights into why and how we read
Addresses issues and problems in the contemporary university and offers insights into the future
Explores the life of the mind, the rewards and joys of committed teaching, and the relationship between teaching and scholarship in the contemporary university
Draws on the author's forty years of teaching experience
Following his long term commitment to close reading and historicism, Schwarz shows how the best literary criticism must both respect text and context
Contains insightful and important readings of a broad range of texts, including those by Joyce, Woolf, Conrad, Forster, Gordimer, and Spiegelman's Maus
Preface.
Acknowledgments.
1. The Odyssean Reader or the Odyssey of Reading: "Of Ourselves and of Our Origins".
2. How We Learn and What We Learn from Literary Texts.
3. Towards a Community of Inquiry: Is There a Teacher in the Class?.
4. Eating Kosher Ivy: Jews as Literary Intellectuals.
5. Professing Literature in the Twenty-First-Century University.
6. Reconfiguring the Profession: The (Uncertain) Path to a Professorship.
Conclusion: The Future of Literary Studies.
Selective Bibliography.
Index
"In Defense of Reading offers fascinating and rewarding insight into a scholar's academic experiences, from which much can be learned."  (Conradiana, 1 March 2012)
"The book explores why we read, how we read and what we learn from reading imaginative literature." (Ezra Magazine, April 2009)


Provides valuable insights into why and how we read

Addresses issues and problems in the contemporary university and offers insights into the future

Explores the life of the mind, the rewards and joys of committed teaching, and the relationship between teaching and scholarship in the contemporary university

Draws on the author's forty years of teaching experience

Following his long term commitment to close reading and historicism, Schwarz shows how the best literary criticism must both respect text and context

Contains insightful and important readings of a broad range of texts, including those by Joyce, Woolf, Conrad, Forster, Gordimer, and Spiegelman's Maus