In Due Season: A Catholic Life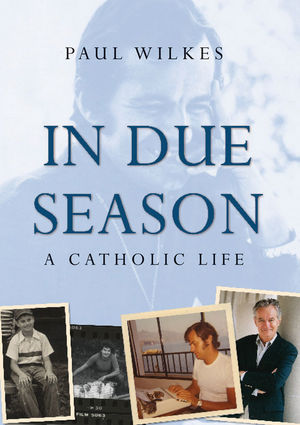 In Due Season: A Catholic Life
ISBN: 978-0-470-44378-1
Mar 2009, Jossey-Bass
320 pages
Description
Praise for In Due Season
""Paul Wilkes's memoir is a love story—and also a story of a struggle with the lover, in his case, God. The son of an immigrant, Wilkes felt that he was called to a priestly vocation, indeed a Trappist vocation. God sent him many signals that this was not his calling. So Paul had to settle for what he thought to be a second-best vocation—a very successful writer. God heaved a sigh of relief. Paul had finally 'got it.' He has written a memoir of the century.""
—Andrew Greeley, author, The Catholic Imagination
""Paul Wilkes is that rarest of people—a deeply spiritual man who is also an absolutely exquisite writer. His absorbing new memoir reveals the wonderful things that can happen when you allow God to lead you along life's often bumpy path—whether or not you know where the journey will lead. This is a beautifully written, frequently haunting, and always fascinating story of seeking and finding, serving and loving, and—ultimately—dying and rising. Highly recommended.""
—James Martin, SJ, author, My Life with the Saints
""Paul Wilkes's biography takes us through Paul's life, but through the stages of our own lives as well. As a result, at the end of it we can see how we, too, have become more than we ever thought we could be. Wilkes is a great writer–he has a refreshing style, a direct voice, and a stark and unfurbished honesty, even about himself. In Due Season has all the marks of Augustine's Confessions or Merton's Seven Storey Mountain. It gives the rest of us, whatever we've done, wherever we've been, hope. It helps us see the forest of our lives despite the trees.
Read this book. It can put the seasons of your own life into better, broader perspective.""
—Joan Chittister, author, Called to Question: A Spiritual Memoir
Paul Wilkes' In Due Season takes the reader on a moving journey through an extraordinary era's thickets of American Catholic life and belief—opening at last into wisdom, affirmation, and hope.
—James Carroll, author, Practicing Catholic and An American Requiem, winner of the National Book Award
Author's Note.
Introduction.
Formation.
1. The Seventh Child.
2. A Vision.
3. High School: The Man in the Ten-Way Suit.
4. Coming Home, Leaving Home.
5. College: Red Arrow Park.
6. At Sea.
7. One Hot Day . . . and Night.
Making It.
8. A Young Reporter.
9. The Big Time, More or Less.
10. Home, Again.
11. On the Streets.
Unmaking It.
12. CHIPS Days.
13. Present.
14. The Pilgrimage.
15. Not Present.
16. The Sofa.
17. 80 Winthrop.
18. The Scent of a Woman.
As Good as It Gets?
19. On the Playing Fields of the Hamptons.
20. The Perfect Girl for You.
21. Tracy.
Getting Bearings.
22. The Hermit.
23. Almost.
24. A Place to Park.
25. Father Greer.
Life, Lived.
26. The Writing Life.
27. A Monk, at Last.
28. Why? Why Not?
Returning.
29. Kolinovce.
30. Worthy or Not.
31. Return to St. Peter's.
32. A Light in the Window.
Acknowledgments.
STARRED REVIEW
In an exquisite memoir that often reads like a novel, writer Wilkes (In Mysterious Ways: The Death and Life of a Parish Priest) recounts and reflects upon his life as a Catholic. Although his journey includes a decade as a Protestant and ongoing discomfort with certain aspects of Catholicism, Wilkes deftly mines its imagery and its figures, particularly the Trappist monk Thomas Merton, a major and recurring influence. As Wilkes meanders through a life that begins in a working-class Cleveland neighborhood, he candidly relates his passages of sin and saintliness, including a conversion-in-reverse when he gains fame as a writer and an interlude following the end of his first marriage in which he lives among the poor, caring for society's castoffs. Readers will experience his confusion, the ""decaying smell of [his] dying soul"" and his triumphs as they wonder if the ""it"" he seeks will find him and whether he will marry again or become a monk. This is fine, engrossing reading for all who appreciate the struggle inherent in the spiritual quest. (Publishers Weekly, January 2009)
""Paul Wilkes has written the first 21st-century Christian classic. His In Due Season: A Catholic Life will rank alongside, not run second to, Thomas Merton's The Seven Storey Mountain. It is its companion volume. ? The bridge between ideals that Wilkes builds with this book carries the American Catholic story from the ghetto, through war, through Vatican II, through the hedonistic 1970s, through a changing church, through the ravages of affluence and easy money, to the questioning of today. ? In Due Season ranks alongside Merton's best because Wilkes absorbed Merton, then moved forward with him, and ultimately beyond him.""
--National Catholic Reporter, reviewed by Arthur Jones, published March 6, 2009.
""Paul Wilkes has written an honest and revealing memoir in which nothing is held back....In Due Season excels on many levels. Wilkes is a felicitous writer who can be read for the simple pleasure of connecting with a prose artist.""
--The Boston Globe (June 2009)