In Search of Self: Exploring Student Identity Development: New Directions for Higher Education, Number 166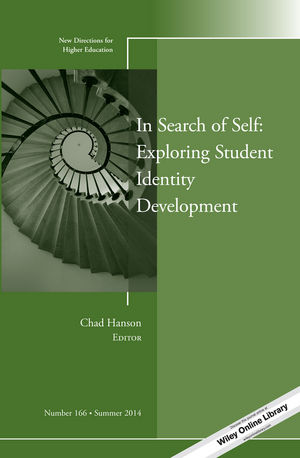 In Search of Self: Exploring Student Identity Development: New Directions for Higher Education, Number 166
ISBN: 978-1-118-91508-0 June 2014 Jossey-Bass 120 Pages
Description
Students become new and different people through the course of their education. When students earn the right to say, "I am a college graduate," that new status becomes a part of who they are.
The authors in this volume—scholars from a range of fields—offer methods that staff and faculty can use to explore the process through which students develop new personal, civic, and professional identities. The research and ideas in this volume can assist in designing approaches to encourage student growth, and to help us understand what it means to attend and become a graduate of a college or university.

This is the 166th volume of the Jossey-Bass quarterly report series New Directions for Higher Education. Addressed to presidents, vice presidents, deans, and other higher education decision makers on all kinds of campuses, it provides timely information and authoritative advice about major issues and administrative problems confronting every institution.
EDITOR'S NOTES 1
Chad Hanson
1. Changing How We Think About the Goals of Higher Education 7
Chad Hanson
In the past 20 years, scholars and practitioners have committed to measuring the cognitive outcomes of education. In this chapter, the author assesses the movement to focus on cognition, to the exclusion of other outcomes. An identity-based framework is posed as an alternative.
2. How Shall I Live? Constructing a Life Story in the College Years 15
Dan P. McAdams, Jennifer Guo
This chapter applies the concept of narrative identity to college student development. The authors describe a narrative interview method that can be used to promote the development of a purposeful life story in the college years.
3. Self-Authorship 25
Marcia B. Baxter Magolda
Developing self-authorship, or the internal capacity to construct one's beliefs, identity, and social relations, is crucial to successfully navigate adult life. Learning partnerships that engage collegians in interdependent relationships with educators support the transition from dependence on authority to self-authorship during college.
4. The Sociology of College Students' Identity Formation 35
Peter Kaufman
The dominant paradigm in the literature of college student development reflects a cognitive or psychological bias when considering the effect that college has on students. This chapter offers an alternative perspective by recognizing college as a social process and subsequently examines students' identity formation from a sociological perspective.
5. Understanding Student Identity From a Socialization Perspective 43
John C. Weidman, Linda DeAngelo, Kathryn A. Bethea
This chapter describes the contribution of current research using the Weidman model of undergraduate socialization to understanding student identity development in college. It illustrates ways in which the framework can be used flexibly and adapted for studying impacts of multiple aspects of the college experience on diverse groups of students.
6. Deliberative Dialogue and the Development of Democratic Dispositions 53
Katy J. Harriger
This chapter discusses how college students can develop democratic dispositions and a civic identity through learning how to engage in deliberative dialogue on public issues.
7. Autoethnography: Inquiry Into Identity 63
Steve Hoppes
This chapter provides guidelines and suggestions for assessing student development using autoethnography, a qualitative research method. Autoethnography guides students in examining the nexus between personal and professional identities, including skills, challenges, values, histories, and hopes for the future.
8. Shaking It Up: Deconstructing Self and Other in an International Classroom 73
Cathy A. Small
This chapter describes a pedagogy for enlisting international diversity on campus to "shake up" understanding of self and other in a half Asian/half American international classroom. Results from the practice are presented, along with suggestions for future adaptations in a range of settings.
9. Seeing College as a Rite of Passage: What Might Be Possible 85
David G. Blumenkrantz, Marc B. Goldstein
This chapter briefly explores what a rite of passage is and is not, and the importance and benefits of such experiences to students, the college, and the larger society. The chapter also describes a practical set of strategies for integrating rites of passage into the campus community.
10. Education for Making Meaning 95
Robert J. Nash, Jennifer J. J. Jang
This chapter explains the meaning of meaning-making for the quarterlife generation. It describes what is called the meaning-quest—consisting of nine core meaning-making questions—and offers two examples of the pedagogy that the authors use in working with students.
INDEX 105