In the Hands of a Chef: The Professional Chef's Guide to Essential Kitchen Tools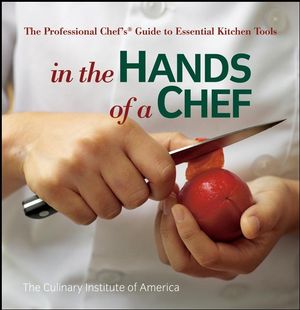 In the Hands of a Chef: The Professional Chef's Guide to Essential Kitchen Tools
ISBN: 978-1-118-55867-6
Oct 2012
176 pages
Description
A new approach to the CIA's Professional Chef's Knife Kit, In the Hands of a Chef reveals how professional chefs use their revered kitchen tools in restaurants and at home. This book identifies the types of tools necessary in the kitchen, such as knives, mixing tools, gadgets, and measuring tools. The book teaches a tool's most popular--yet often highly specialized--uses, the history of a tool, types of materials used in making it, and advances in technology that have improved a tool. The book gives readers a personal look at chefs' methods for using these tools and a sense of the personal attachment and even respect they have for them. Readers will also learn the parts of kitchen tools, characteristics of a good knife, and what to look for when purchasing knives and other kitchen tools.  In the Hands of a Chef features 112 new black and white photographs that convey the proper way to hold the tool or how it appears when in the hands of a chef. 
Preface. Introduction.
Chapter 1. Knives and Cutting Tools.
The Parts of a Knife. The Blade. The Cutting Edge. The Bolster. The Tang. The Handle. Types of Knives. General Purpose Knives. Knives for Butchering and Fabricating. Specialty Knives. Sharpening and Honing Tools. Whetstones. Steels. Electric Knife Sharpeners. Additional Cutting Tools. Ice Carving Tools. Tongs and Similar Tools. Scissor and Shears. Spatulas. Turners. Peelers. Graters and Rasps. Corers. Zesters. Channel Knives. Pitters. Mandolin. Apple Wedgers. Guitars (Egg Cutter). Food Mill. Ricer. Garlic Press. Carving and Kitchen Forks. Parisienne Scoops. Wire Mesh Gloves. Reamers. Meat Pounder or Meat Tenderizers. Shrimp Deveiner. Food Processor. Electric Slicer. Meat Grinder. Vertical Chopping Machine (VCM). Food Chopper (
Buffalo
Chopper).
Chapter 2. Knife Skills.
Knife Selection. What's in Your Knife Kit?. Handling and Maintaining Knives. Sharpening Knives on a Stone. Honing Knives on a Steel. Keeping Knives Clean and Sanitized. Cutting Surface. Storing Knives. Holding the Knife. The Guiding Hand. Setting Up Your Work Area. Basic Cuts. Preliminary Cuts. Chopping and Mincing Foods. Shredding and Grating. Slicing Cuts: Plain and Decorative. Precision and Portioning Cuts. Decorative and Special Cutting Techniques.
Chapter 3. Cutting Techniques for Vegetables and Fruits.
Onions. Shallots. Scallions. Garlic. Leeks. Mushrooms. Tomatoes. Avocadoes. Peppers and
Chiles
. Plantains. Citrus Fruit. Melons. Pineapples. Mangoes.
Chapter 4. Cutting Techniques for Meat and Poultry.
Poultry. Trussing Poultry. Halving and Quartering Poultry. Suprémes. Meat Fabrication Techniques. Tying a Roast. Tenderloin. Cutting Bone-In Chops. Disjointing a Rabbit. Carving Roasted Meats and Poultry. Rib Roast. Ham. Duck.
Chapter 5. Cutting Techniques for Fish and Shellfish.
Round Fish. Lobster. Preparing Live Lobster to Cook. Removing the Meat from a Cooked Lobster. Shrimp. Clams and Oysters. Opening Oysters. Opening Clams.
Chapter 6. Hand Tools for Measuring, Mixing, and Baking.
Tools for Measuring. Converting Between
U.S.
And Metric Measurement Systems. Volume versus Weight. Tools for Measuring Volume. Tools for Measuring Weight. Tools for Measuring Temperature. Baking and Mixing Tools. Spoons. Whisks. Bench Scraper. Bowl Scraper. Mortar and Pestle. Rolling Pins. Pastry Bags and Tips. Summary. Glossary.
A revision of The Culinary Institute of America's Professional Chef's Knife Kit, the book provides must-have information on the tools necessary for any kitchen, including knives, mixing tools, gadgets, and measuring tools

Knife skills are an essential part of any chef's basic training. This book will be an invaluable resource for students and professionals, as well as for amateur home cooks interested in improving their knife skills

In addition to easy-to-follow instruction on the use of kitchen tools, the book also includes information on each tool's history and evolution and real-life kitchen secrets from top professional chefs

The affordable package includes 112 black and white photographs that illustrate kitchen tools' proper use and handling

The book's release will be tied into the launch of the CIA's new line of branded kitchen equipment