InDesign CS5 Bible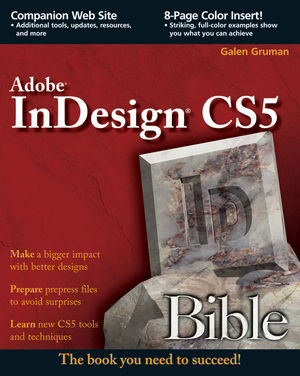 InDesign CS5 Bible
ISBN: 978-0-470-77026-9 May 2010 936 Pages
Description
Optimize the latest version of InDesign for your most efficient project workflow yet
InDesign is a powerful publishing tool that serves as the standard program for professional layout and design. The latest version boasts a variety of updates and enhancements. Packed with real-world examples and written by industry expert Galen Gruman, this in-depth resource clearly explains how InDesign CS5 allows for better typography and transparency features, speedier performance, and more user control than any other layout program.
Shows you the vast updates to the newest version of InDesign, including speedier performance, sharper functionality, and new object styles
Offers insight for taking advantage of using the dynamic spell check, creating anchored objects that follow text, creating object styles that can be applied for consistent formatting, and more
Shares real-world tips and techniques as well as helpful examples from industry expert and popular author Galen Gruman
Whether you are aiming to produce ad campaigns, magazines, interactive PDF files, or other forms of media, InDesign CS5 Bible offers everything you need to know to quickly get up to speed with the latest version of InDesign.
Note: CD-ROM/DVD and other supplementary materials are not included as part of eBook file.
Table of contents
Preface.
Acknowledgments.
Introduction.
Part I: Welcome to InDesign.
Chapter 1: Inside the InDesign Interface.
Chapter 2: Working with Windows and Views.
Chapter 3: Setting InDesign Preferences.
Part II: Document Fundamentals.
Chapter 4: Creating, Opening, and Saving Documents.
Chapter 5: Working with Pages.
Chapter 6: Working with Layers.
Chapter 7: Creating Layout Standards.
Chapter 8: Defining Colors, Tints, and Gradients.
Part III: Object Fundamentals.
Chapter 9: Adding Frames, Shapes, and Lines.
Chapter 10: Manipulating Objects.
Chapter 11: Transforming Objects.
Chapter 12: Applying Effects to Objects.
Chapter 13: Orchestrating Objects.
Part IV: Graphics Fundamentals.
Chapter 14: Importing Graphics.
Chapter 15: Fitting Graphics and Frames Together.
Chapter 16: Drawing Free-form Shapes and Curved Path.
Part V: Text Fundamentals.
Chapter 17: Importing Text Files.
Chapter 18: Flowing Text through a Document.
Chapter 19: Editing, Spell-checking, and Replacing Text.
Chapter 20: Specifying Character Attributes.
Chapter 21: Specifying Paragraph Attributes.
Chapter 22: Creating Special Text Formatting.
Chapter 23: Using Special Characters.
Part VI: Business Document Fundamentals.
Chapter 24: Workgroup Editing.
Chapter 25: Setting Up Tabs and Tables.
Chapter 26: Using Automatic and Custom Text.
Chapter 27: Working with Footnotes, Indexes, and TOCs.
Part VII: Output Fundamentals.
Chapter 28: Creating Multidocument Projects.
Chapter 29: Preparing for Color Prepress.
Chapter 30: Preparing for Printing.
Chapter 31: Printing Documents.
Part VIII: Multimedia Fundamentals.
Chapter 32: Creating Prepress Files.
Chapter 33: Using Hyperlinks and Creating Web Pages.
Chapter 34: Using Interactive Media and Creating PDF Documents.
Chapter 35: Using Animation and Creating Flash Documents.
Part IX: Programming InDesign.
Chapter 36: Working with XML.
Chapter 37: Using Scripts.
Part X: Appendixes.
Appendix A: Installing InDesign and Extensions.
Appendix B: What's New in InDesign CS5.
Index.