Inclusion of the Other: Studies in Political Theory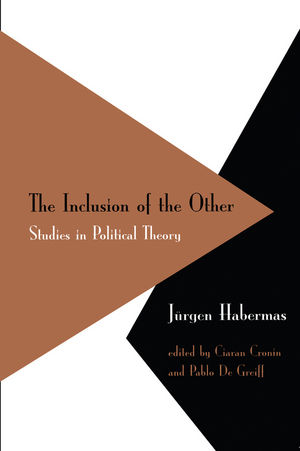 Inclusion of the Other: Studies in Political Theory
ISBN: 978-0-745-69435-1
Oct 2015, Polity
352 pages
Description
The Inclusion of the Other contains Habermas's most recent work in political theory and political philosophy. Here Habermas picks up some of the central themes of Between Facts and Norms and elaborates them in relation to current political debates.

One of the distinctive features of Habermas's work has been its approach to the problem of political legitimacy through a sustained reflection on the dual legitimating and regulating function of modern legal systems. Extending his discourse theory of normative validity to the legal-political domain, Habermas has defended a proceduralist conception of deliberative democracy in which the burden of legitimating state power is borne by informal and legally institutionalized processes of political deliberation. Its guiding intuition is the radical democratic idea that there is an internal relation between the rule of law and popular sovereignty. In these essays he brings this discursive and proceduralist analysis of political legitimacy to bear on such urgent contemporary issues as the enduring legacy of the welfare state, the future of the nation state, and the prospects of a global politics of human rights.

This book will be essential reading for students and academics in sociology and social theory, politics and political theory, philosophy and the social sciences generally.
Editor's Introduction.
Translator's Note. Preface.
Part I: How Rational is the Authority of the Ought?:.
1. A Genealogical Analysis of the Cognitive Content of Morality.
Part II: Political Liberalism: A Debate with John Rawls: .
2. Reconciliation through the Public Use of Reason.
3."Reasonable" versus "True," or the Morality of Worldviews.
Part III: Is There a Future for the Nation-State? .
4. The European Nation-State: On the Past and Future of Sovereignty and Citizenship.
5. On the Relation between the Nation, The Rule of Law, and Democracy.
6. Does Europe Need a Constitution?Response to Dieter Grimm.
Part IV: Human Rights: Global and Internal.
7. Kant's Idea of Perpetual Peace: At Two Hundred Years' Historical Remove.
8. Struggles for Recognition in the Democratic Constitutional State.
Part V: What Is Meant by "Deliberative Politics"?:.
9. Three Normative Models of Democracy.
10. On the Internal Relation between the Rule of Law and Democracy.
Notes.
Index.
Jürgen Habermas has been awarded the prestigious 'Friedenspreis des deutschen Buchhandels' prize for 2001


Written by Jürgen Habermas - the most influential philosopher and social thinker in Germany today.


This book presents Habermas's most recent thinking in the area of political theory and political philosophy.



Addresses a range of fundamental issues including the nature of democracy, the future of the nation-state and the prospects for a global politics of human rights.