Incorporating Spirituality in Counseling and Psychotherapy: Theory and Technique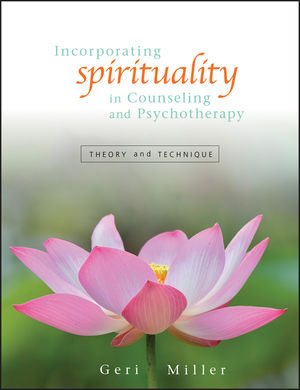 Incorporating Spirituality in Counseling and Psychotherapy: Theory and Technique
ISBN: 978-0-471-25690-8 June 2003 336 Pages
Description
"This book, through its well-referenced and critically thoughtful approach, has made an invaluable contribution to the counseling literature. The extensive use of case studies and other applied materials makes it a valuable . . . reference."
–
Dr. Thomas J. Russo
, Department of Counseling and School Psychology, University of Wisconsin, River Falls
Incorporating Spirituality in Counseling and Psychotherapy presents an applied, insightful, and well-researched overview of the theory, practice, and ethics of integrating spiritual and religious themes and rituals into traditional therapy models. This well-conceived and immensely readable text examines common barriers and bridges between spirituality and mental health and documents the effectiveness of using spiritual practices and concepts in treatment. Most important, it encourages readers, through group activities and individual reflection, to consider their own spiritual belief systems and biases before engaging clients in therapy with a spiritual base.
Key features of this book include:
A synopsis of the major Eastern and Western religions and spiritual movements
Theoretical, cultural, and ethical implications of incorporating spirituality in counseling
Practical methods for helping clients develop a spiritual identity
Proven techniques for incorporating spiritual practices in treatment
Case studies providing complex, real-life scenarios, as well as questions and activities for individual and group discussion
A practical book for students and a valuable resource for counselors, psychologists, social workers, addiction specialists, and other mental health professionals, Incorporating Spirituality in Counseling and Psychotherapy offers expert guidance on how to handle issues of spirituality in furthering the therapeutic process.
Table of contents
Chapter 1 Introduction 1
Chapter Objectives 1
Spirituality in the Context of Counseling 1
Creation of a Sacred Place 6
Encouragement of Self-Care 9
Encouragement of Spiritual Practice 11
Case Studies 17
Exercises 18
Suggested Readings 19
Chapter 2 Historical Development 21
Chapter Objectives 21
Separateness and Integration 21
Barriers between Spirituality/Religion and Therapy 23
Bridges between Spirituality/Religion and Therapy 30
Case Studies 39
Exercises 41
Suggested Readings 43
Chapter 3 Western or Monotheistic Religions 45
Chapter Objectives 45
Overview 45
Working across Differences 55
Judaism 58
Christianity 62
Islam 74
Zoroastrianism 77
Sikhism 81
Native American Religions 83
Case Studies 86
Exercises 87
Suggested Readings and Web Sites 89
Chapter 4 Eastern Religions 93
Chapter Objectives 93
Overview 93
Hinduism 94
Shintoism 99
Jainism 102
Buddhism 105
Confucianism 108
Taoism 111
Case Studies 114
Exercises 116
Suggested Readings and Web Sites 117
Chapter 5 Theoretical Integration with Cultural Implications 121
Chapter Objectives 121
Therapy Integration 121
Transference Issues 126
Countertransference Issues 128
Types of Integration 131
Cultural Implications 133
Case Studies 136
Exercises 138
Suggested Readings 140
Chapter 6 Counseling Focus Integration 141
Chapter Objectives 141
Helping Clients Develop a Spiritual Identity 141
Case Application 151
Counseling Avenues 153
Case Studies 158
Exercises 160
Suggested Readings 162
Chapter 7 Ethical Issues 163
Chapter Objectives 163
Overview 163
Informed Consent 164
Determination of Secular or Religious Counseling 171
Development of a Spiritual Identity 172
Avoidance or Minimization of Dual or Multiple Relationships with Clients 175
Collaboration with Clients' Religious Leaders 177
Respect for Clients' Religious or Spiritual Values 178
Boundaries of the Counselor's Work Settings 181
Counselor's Area of Competence 182
Case Studies 184
Exercises 186
Suggested Readings 188
Chapter 8 Specific Treatment Techniques 189
Chapter Objectives 189
Overview 189
Religious Practices 191
General Practices 199
Religious and General Practices 204
Case Studies 211
Exercises 212
Suggested Readings 214
Appendix A American Association for Marriage and Family Therapy (AAMFT) Code of Ethics 215
Appendix B American Counseling Association (ACA) Code of Ethics and Standards of Practice 225
Appendix C American Psychological Association (APA) Ethical Principles of Psychologists and Code of Conduct 251
Appendix D National Association of Social Workers (NASW) Code of Ethics 275
References 297
Author Index 309
Subject Index 313
Reviews
"Written in articulate, succinct, and well-organized prose." (Choice, April 2003)
What's New
Summarizes major eastern and western spiritual traditions and religious groups, identifies theoretical foundations, and describes practical counseling techniques for using spirituality in therapy
Includes important chapter on ethics and spirituality and the ethics codes of ACA, APA, NASW, and AAMFT
Incorporates helpful pedagogical tools including chapter objectives, case examples, end of chapter questions for reflection and/or group discussion and numerous learning activities as well as web resources
Endorsed by the former president of ASERVIC (ACA Division on Spiritual, Ethical, and Religious Values in Counseling) as a valuable text.