Independently Wealthy: How to Build Financial Security in the New Economic Era, 2nd Edition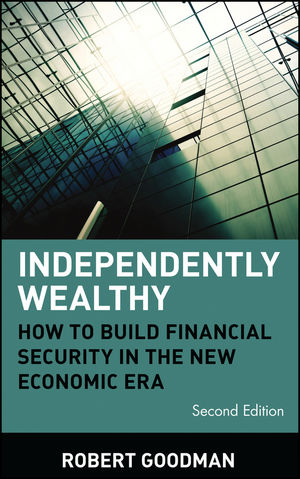 Independently Wealthy: How to Build Financial Security in the New Economic Era, 2nd Edition
ISBN: 978-0-471-06128-1
Oct 2001
256 pages
Product not available for purchase
Description
Praise for INDEPENDENTLY WEALTHY

Second Edition

"Anyone who has heard Dr. Goodman speak knows he delivers intelligent advice in a clear, forthright manner. His book does the same, helping investors chart a well-thought-out financial plan."-Miles Gordon, CEO, ING Advisors Network

First Edition

"Are you looking for a way to take charge of your financial future? Read Bob Goodman's Independently Wealthy. It is a terrific first step to financial prosperity."-Bill Griffeth, Anchor, CNBC-TV

"A fascinating look at the events and trends influencing today's economy, coupled with pragmatic ideas on creating a solid investment portfolio."-Ginger Applegarth, author, The Money Diet: -Reaping the Rewards of Financial Fitness

"Written in a forthright and accessible manner, Independently Wealthy places current economic events into perspective. It is must reading for anyone who aspires to financial independence in the new economic era."-Arthur Laffer, President, A. B. Laffer, V. A. Canto & Associates

"A well-reasoned, commonsense approach to achieving financial independence in the new economic landscape."-John Bachmann, Managing Partner, Edward Jones

"Bob Goodman's message about retirement: Uncle Sam is about to take the ax to Social Security and Medicare, but he's providing plenty of help for workers who are willing to invest for their own financially secure retirement. Goodman shows that you have to deal effectively with this new reality."-Todd Robinson, Chairman and CEO, LPL Financial Securities
Foreword.

Preface: Setting Sail in Rough Financial Waters.

PART I: THE RELUCTANT CAPITALISTS.

1. The Enduring Conflict: Economic Efficiency versus Economic Justice.

2. The Keynesian Revolution and the Concept of Economic Justice.

3. The 1980s: Renaissance of Relapse?

4. The Drawing of the New Economic Era.

PART II: TAKING CHARGE OF YOUR FINANCIAL FUTURE.

5. The Key to Wealth.

6. The Path to Wealth.

7. Mutual Funds: Prudent Vessels of Choice.

8. Avoiding the Tax Bite: Shelters and Strategies.

PART III: PUTTING IT ALL TOGETHER.

9. Building Your Plan: Move Decisively, but Stay Flexible.

10. Summing Up: Ten Rules That Can Make You Independently Wealthy.

Appendix: Financial Planning Work Sheets.

Index.