Index Investing For Dummies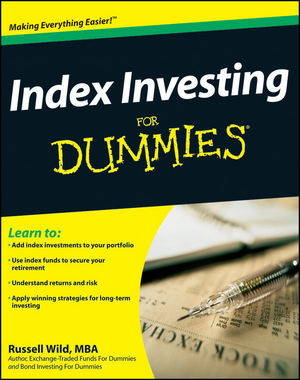 Index Investing For Dummies
ISBN: 978-0-470-46534-9 January 2009 364 Pages
Description
A recommended, proven way to broaden portfolios and profits
Recommended by finance experts and used extensively by institutional investors, index funds and exchange-traded funds (ETFs) provide unmanaged, diversified exposure to a variety of asset classes. Index Investing For Dummies shows active investors how to add index investments to their portfolios and make the most of their money, while protecting their assets. It features plain-English information on the different types of index funds and their advantage over other funds, getting started in index investing, using index funds for asset allocation, understanding returns and risk, diversifying among fund holdings, and applying winning strategies for maximum profit.
Table of contents
Introduction.
Part I: The (Mostly) Nonviolent Indexing Revolution.
Chapter 1: What Indexing Is . . . and Isn't.
Chapter 2: A Short History of the Index and Index Investing.
Chapter 3: Why Indexing Works — and Works So Darned Well.
Chapter 4: Why Everyone Isn't Indexing.
Chapter 5: A New Era Begins: ETFs and Alternative Indexes.
Part II: Getting to Know Your Index Fund Choices.
Chapter 6: The Basic Index Investing Components.
Chapter 7: Investing in Stock Indexes: Your Gateway to Growth.
Chapter 8: Investing in Bond Indexes: Protecting Your Principal.
Chapter 9: Diversifying Your Portfolio with Commodity, REIT, and Other Indexes.
Part III: Drawing a Blueprint for Your Index Portfolio.
Chapter 10: Finding a Happy Home for Your Money.
Chapter 11: Developing Your Broad Investment Goals.
Chapter 12: Fine-Tuning Your Index Selections.
Chapter 13: Mixing and Matching Passive and Active Investing.
Chapter 14: Making Your Final Investment Decisions.
Chapter 15: A Bevy of Sample Index Portfolios.
Part IV: Ensuring Happy Returns.
Chapter 16: Buying and Holding: Boring, But It Really Works.
Chapter 17: Seeking Additional Assistance from Professionals . . . Carefully.
Part V: The Part of Tens.
Chapter 18: Ten Ways to Deal with the Temptation to Beat the Market.
Chapter 19: Ten Ways to Screw Up a Perfectly Good Index Portfolio.
Chapter 20: Ten Q & As with John Bogle, Father of Index Investing.
Part VI: Appendixes.
Appendix A: A Select List of Index Mutual Funds.
Appendix B: A Select List of Exchange-Traded Funds.
Appendix C: Helpful Web Resources for the Smart Index Investor.
Index.