India: An Investor's Guide to the Next Economic Superpower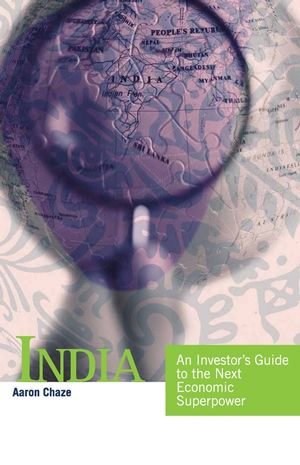 India: An Investor's Guide to the Next Economic Superpower
ISBN: 978-1-119-19911-3
Aug 2015
334 pages
Description
Take a look at future investment opportunities in an emerging economic power.

Get up to speed on investing in what could well be the greatest opportunity of the 21st century. For those looking for a new place to invest, India describes opportunities and charts a course through them. Offering coverage far deeper than superficial newspaper stories, this comprehensive guide reveals where India stands financially, where it?s going, and how investors everywhere can go with it. No other book looks at India from both an investment standpoint and a Western economic perspective. Order your copy today.
Acnowledgements.
Introduction.
Section I: The Investment Canvas.
Chapter 1: What is driving the surge of opportunity in India and the opportunity for investors.
Chapter 2: The Intellectual Structure and Framework of the Indian Economy: A historical and contemporary perspective.
Chapter 3: Change Catalysts: Corporate Governance, cost of capital and the emergence of value.
Chapter 4: The Landscape of political reform and diminishing risk.
Section II: A Guide to Wealth Creation in India.
Introduction: Investing in India: A brief Introduction.
Chapter 5: Privatization: A Capital Question.
Chapter 6: The Old World: Commodities and the making of Indian blue chips.
Chapter 7: The New World: Fruits of Liberalization.
Chapter 8: The Future World: Opportunity Unbound.
Section III: Oppportunities and threats.
Chapter 9: India and its approach to energy security.
Chapter 10: India Vs China: Creating a sustainable advantage.
Chapter 11: A compass for the future.
Bibliography.
Appendix.
Index.