Indian Media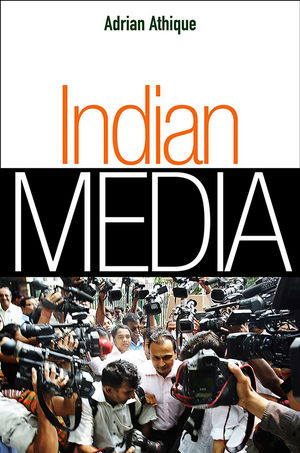 Indian Media
ISBN: 978-0-745-65332-7 February 2012 Polity 244 Pages
Description
The very rapid growth in the Indian media industries and the vibrancy of India's popular culture are making a working understanding of the Indian scene a prerequisite for any serious study of media in the twenty-first century. As one of the largest and most influential emerging economies in the world today, India now plays a crucial role in any serious discussion of social and economic change taking place at the global level. As new commercial and political alignments take shape in the face of new global circumstances, thinkers and decision-makers are inexorably drawn towards the reality of a new India being forged in the technological and cultural flux of global media flows.

Taking an innovative interdisciplinary approach to the complex field of Indian media and society, this book combines a rich descriptive account with critical analysis designed to engender informed debate amongst students, academics and other researchers.
Introduction: A Global Approach to the Indian Media
Chapter One: Mass Media and the Making of Modern India
Chapter Two: Media Development and Mixed Messages
Chapter Three: Liberalisation, Diversity and the Age of Television
Chapter Four: The Global Dynamics of Indian Media Piracy
Chapter Five: Digital India: Software, Services and Cybercultures
Chapter Six: Bollywood, Brand India and Soft Power
Chapter Seven: Media Provision and the New Leisure Economy
Afterword: Indian Media and the Asian Century
References
"An accessible and comprehensive account of media trajectories in India … Athique has done a sterling job of pointing readers in fruitful directions, politically and practically, without drowning them in esoteric argumentation."
Popular Communication


"A commendably jargon-free work that places the phases of development of the media within their social, political and economic contexts, providing well-written and researched narrative and a thoroughly supported analysis of the factors involved in each stage of development."
Journalism Studies


"A succinct reader for anyone looking to gain a grasp of how Indian media operates ... Contextualises the contemporary media landscape from film to news to online media and tackles all the relevant topics. A must read for those starting media studies in India and a good reader for those outside to gain insights about the Indian media's unique place in a globalized world."
Asian Creative Transformations

"A significant contribution to the field. It is not just a valuable survey of how India's media landscape has developed and changed since the colonial era, but also is an important intervention in continuing debates about the impact on India of global media and information flows."
Historical Journal of Film, Radio and Television


"Provides a clear understanding of the growing importance of the media industry in India … Given the growing interest in Indian media as an object of academic research and study around the world, this book provides a useful introduction and sets directions for further debates."
Contemporary South Asia


"
Indian Media
deals with a wide range of issues, such as the making of modern India, a critical appraisal of Gandhi's views on media and its development, liberalisation and the age of television, piracy, cybercultures and media provisions in the scenario of the new leisure economy. Athique identifies the development of 'native' cinema as rare among colonial societies, and demonstrates an impeccable understanding of the cultural hegemony of Bollywood in Indian cinema."
Media International Australia


"Adrian Athique offers a comprehensive and engaging introduction to the media in India, situating the topic in the context of global media flows and debates. He covers the field in a way that is as clear-headed as it is clearly written."
Toby Miller, co-author Global Hollywood
"Despite unprecedented expansion of media and communication in the world's largest democracy and one of its fastest growing economies, in international scholarship the study of media in India has rarely gone beyond tokenism. Taking a global approach to the study of Indian media, Athique's accessible and incisive book makes a major intervention in Indian media studies and more broadly contributes to the internationalization of our field. Highly recommended."
Daya Thussu, University of Westminster
"Assessing the distinctiveness of Indian media while framing it in relation to global media practices, Adrian Athique offers an astute overview of India's globalization by considering its media along the registers of technology, commodity, services and markets. With insights into Indian media piracy, digitality and corporate branding, this book is a welcome contribution to conversations on the centrality of media institutions in shaping heterogeneous forms of globalization around the world."
Priya Jaikumar, University of Southern California
This book combines a rich empirical account with critical analysis designed to engender informed debate amongst students, academics and other researchers.
The author takes an innovative interdisciplinary approach to the complex field of Indian media and society.
The author is highly respected - he has written a lot about transnational audiences and cinema in India and he's well-placed therefore to write both about Indian media and the broader global flows.
The book is designed primarily for an international readership, whilst also having the benefit of applying a fresh international perspective to those familiar with the debates taking place in India today.