Individual Diversity and Psychology in Organizations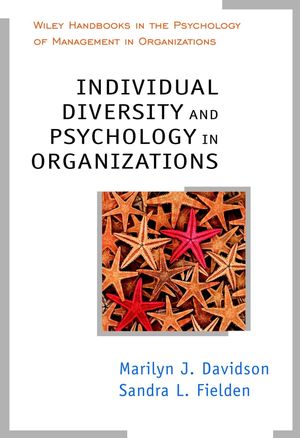 Individual Diversity and Psychology in Organizations
ISBN: 978-0-470-01335-9 January 2005 434 Pages
Description
Workplace initiatives to manage diversity seek to fully develop the potential of each employee and turn their unique skills into a business advantage. Such fostering of difference enhances team creativity, innovation and problem-solving and is therefore an essential strategy for today's employers.

Individual Diversity and Psychology in Organizations is an indispensable handbook for all those involved in managing diversity. Its academic and practice-oriented perspective is unique as it presents practical strategies and case studies alongside academic reviews, giving the reader a balanced overview of each topic. The team of expert authors examine international issues in diversity, such as:
Strategies for managing organizational effectiveness Legal and psychological implications
Diversity training and its effectiveness Disability, racial equality, age and gender diversity Affirmative action
Recognizing stereotypes and bias
Business ethics
The Future of diversity
This much needed handbook will be welcomed by researchers, academics and students in organizational psychology, management and business. It will also be of great use to professionals in human resources, equal opportunities management and management consultancy.
About the Editors.
About the Contributors.
Series Preface.
Preface.
Acknowledgements.
Part I: STRATEGIC APPROACHES TO DIVERSITY.
1. Developing Strategic Approaches to Diversity Policy (Gill Kirton).
2. Practice Chapter - The Importance of Diversity in Innovation (Carolann Ashton).
3. Diversity in the Context of Business Ethics (Catherine Cassell and Phil Johnson).
4. Managing Diversity: Developing a Strategy for Measuring Organizational Effectiveness (Michael L. Wheeler).
Part II: LEGAL AND CULTURAL ISSUES.
5. Management of Diversity in the UK - The Legal and Psychological Implications (Jill Earnshaw).
6. Affirmative Action as a Means of Increasing Workforce Diversity (Alison M. Konrad and Frank Linnehan).
7. Principles and Practice of Gender Diversity Management in Australia (Mary Barrett and Andrew Hede).
8. Organizational Efforts to Manage Diversity: Do They Really Work? (Penny Dick).
9. Managing Diversity: Caste and Gender Issues in Organizations in India (Elisabeth M. Wilson).
Part III: SPECIFIC FORMS OF DIVERSITY.
10. Gender Diversity and Organizational Performance (Deborah Hicks-Clarke and Paul Iles).
11. Analysing the Operation of Diversity on the Basis of Disability (Carol Woodhams and Ardha Danieli).
12. Managing Racial Equality and Diversity in the UK Construction Industry (Andrew W. Gale, Marilyn J. Davidson, Peter Somerville, Dianne Sodhi, Andy Steele and Sandi Rhys Jones).
13. Is Diversity Inevitable? Age and Ageism in the Future of Employment (Chris Brotherton).
Part IV: DIVERSITY TRAINING AND ITS EFFECTIVENESS.
14. Designing a Diversity Training Programme that Suits your Organization (Roberta Youtan Kay and Donna M. Stringer).
15. Diversity Issues in the Mentoring Relationship (David Clutterbuck).
16. Networking and the Modernization of Local Public Services: Implications for Diversity (Jean Hartley and Lyndsay Rashman).
17. Workable Strategies and Effectiveness of Diversity Training (David L. Tan, Lee A. Morris and James Romero).
Part V: RECOGNIZING STEREOTYPES, ATTITUDES AND BIAS.
18. What You See is What You Get: Popular Culture, Gender and Workplace Diversity (Alison Sheridan and Jane O'Sullivan).
19. Male Managers' Reactions to Gender Diversity Activities in Organizations (Anna Wahl and Charlotte Holgersson).
20. Bias in Job Selection and Assessment Techniques (Mike Smith).
Part VI: THE FUTURE - THE MANAGEMENT OF DIVERSITY BEYOND THE MILLENNIUM.
21. Cultural Diversity Programmes to Prepare for the 21st Century: Failures and Lost Opportunities (Norma M. Riccucci).
22. Cultural Diversity in the IT-Globalizing Workplace: Conundra and Future Research (Nada Korac-Kakabadse, Alexander Kouzmin and Andrew Korac-Kakabadse).
23. The Future of Workplace Diversity in the New Millennium (Tony Montes and Graham Shaw).
Index.