Indo-European Language and Culture: An Introduction, 2nd Edition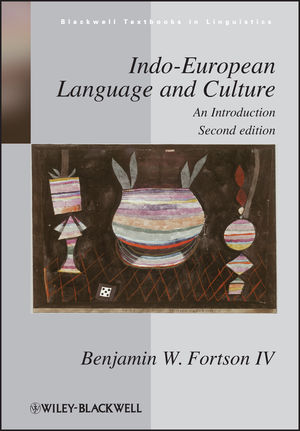 Indo-European Language and Culture: An Introduction, 2nd Edition
ISBN: 978-1-405-18896-8 August 2009 Wiley-Blackwell 562 Pages
Description
This revised and expanded edition provides a comprehensive overview of comparative Indo-European linguistics and the branches of the Indo-European language family, covering both linguistic and cultural material. Now offering even greater coverage than the first edition, it is the definitive introduction to the field.
Updated, corrected, and expanded edition, containing new illustrations of selected texts and inscriptions, and text samples with translations and etymological commentary

Extensively covers individual histories of both ancient and modern languages of the Indo-European family

Provides an overview of Proto-Indo-European culture, society, and language

Designed for use in courses, with exercises and suggestions for further reading included in each chapter

Includes maps, a glossary, a bibliography, and comprehensive word and subject indexes
Table of contents
Table of Contents.
1 Introduction: The Comparative Method and the Indo-European Family.
2 Proto-Indo-European Culture and Archaeology.
3 Proto-Indo-European Phonology.
4 Proto-Indo-European Morphology: Introduction.
5 The Verb.
6 The Noun.
7 Pronouns and Other Parts of Speech.
8 Proto-Indo-European Syntax.
9 Anatolian.
10 Indo-Iranian I: Indic.
11 Indo-Iranian II: Iranian.
12 Greek.
13 Italic.
14 Celtic.
15 Germanic.
16 Armenian.
17 Tocharian.
18 Balto-Slavic.
19 Albanian.
20 Fragmentary Languages
Reviews
Praise for the Previous Edition:
"Superb … [Fortson's] short general discussions of the histories and ecologies of the individual languages are the best I have ever read." (Recensiones - Salesianum, 2008)
"I would like to conclude by stressing that this is an excellent textbook. I have taught from it, and the students in my class not only learned a great deal from it, they also seemed to enjoy the book almost as much as I did." (Bryn Mawr Classical Review)
"Finally, there is a reliable, engaging and accessible presentation of the communis opinio. And there are even exercises! … Fortson has produced an excellent book that fulfills its goals admirably. I hope it will inspire a renaissance of Indo-European linguistics in English speaking countries." (Journal of the American Oriental Society)
Features


Updated, corrected, and expanded new edition, containing new illustrations of selected texts and inscriptions, and text samples with translations and etymological commentary

Extensively covers individual histories of both ancient and modern languages of the Indo-European family

Provides an overview of Proto-Indo-European culture, society, and language

Designed for use in courses, with exercises and suggestions for further reading included in each chapter

Includes maps, a glossary, a bibliography, and comprehensive word and subject indexes