Indoor Grilling For Dummies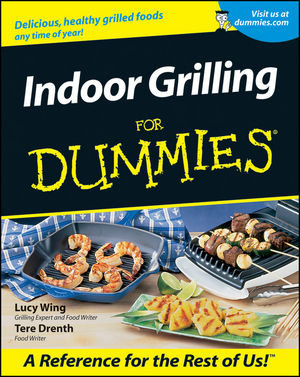 Indoor Grilling For Dummies
ISBN: 978-1-118-06962-2 April 2011 243 Pages
Description
Heard about the phenomenon called indoor grilling? From open or covered electric grills to contact grills, grill pans, and cooktop inserts, there are all kinds of indoor grilling options that are inexpensive to purchase, take little time to clean up, and store conveniently out of sight. Best of all, whether it's a bright, sunny day, a rainy afternoon, or a cold, wintry night, you can still enjoy mouthwatering, healthy meals any time you're in the mood to grill!
Indoor Grilling For Dummies takes you from beginner to master griller with a dash of humor, a splash of good fun, and lots of sizzling recipes. If you're already an indoor grill owner, you'll find ways to perfect your technique and expand your menus. Step-by-step guidance shows you how to:
Choose the right indoor grill
Speak a griller's language
Clean and maintain your grill
Select the best accessories
Cook for better healt h and great taste! & lt;/ul>

While indoor grilling isn't rocket science, it isn't a cakewalk either. This easy-to-follow guide gives you tips and tricks for grilling indoors like a pro, from warming the grill and selecting the right temperature to the secret to grilling success (marinating). Plus, you get dozens of fast, delicious, hassle-free recipes for everything from sausage to fajitas, barbecued pork tenderloin to brandied turkey, and grilled mushrooms to chicken Caesar salad. You'll also discover how to:

Create tasty appetizers and to-die-for desserts
Cook safely on a patio or balcony
Add a boost of flavor to every dish with marinades, sauces, and rubs
Buy, store, and handle meat, poultry, and seafood
Choose veggies and fruits that are great for the grill
Prepare for a special occasion

Featuring expert advice on reducing fat and calories in grilled foods, using grilled foods in sandwiches and wraps, and serving up a party with a meal that your guests will remember, Indoor Grilling For Dummies has all the buying and cooking tips you need to become an indoor griller extraordinaire!
Table of contents
Introduction.

PART I: Mastering Indoor Grilling.

Chapter 1: Why Grill Indoors?

Chapter 2: Choosing Indoor Grilling Equipment and Accessories.

Chapter 3: Understanding the Basic Techniques of Grilling Indoors.

PART II: Accounting for Taste.

Chapter 4: Making Marinades and Rubs.

Chapter 5: Serving Up Sauces.

PART III: Getting Grilled.

Chapter 6: Quick and Easy Favorites.

Chapter 7: Beefing Up Your Repertoire.

Chapter 8: Pork-Barrel Projects.

Chapter 9: Getting a Bird's-Eye View of Poultry.

Chapter 10: Plenty of Fish in the Sea.

Chapter 11: Vegging Out.

Chapter 12: Great Wraps and Salads.

PART IV: Dressing Up for Dinner.

Chapter 13: Warming Up the Crowd with Appetizers.

Chapter 14: Making the Occasion Special.

Chapter 15: Getting Your Just Desserts.

PART V: The Part of Tens.

Chapter 16: Ten Great Reasons to Grill Indoors.

Chapter 17: Ten Ways to Make Grilling Healthy and Safe.

Chapter 18: Ten Ways to Stay Lean and Healthy.

Chapter 19: Ten Ways to Make Your Grilled Meals Memorable.

Appendix: Resources.

Index.

Book Registration Information.