Industrial Guide to Chemical and Drug Safety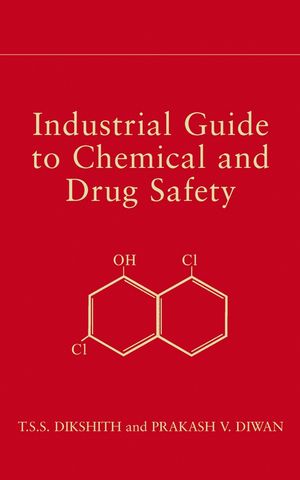 Industrial Guide to Chemical and Drug Safety
ISBN: 978-0-471-45877-7 May 2003 629 Pages
Description
Exposure to a wide variety of chemicals and drugs has become common in industrial, laboratory, and even household environments. Fortunately, global understanding and consequently global safety standards regarding the management of toxic and hazardous substances are fast approaching uniformity. The methods of handling, use, transportation, storage, and disposal in particular are moving toward standardization. As these protocols involving chemicals and drugs continue to cross international borders, students and professionals need a reliable resource to ensure they observe appropriate safety standards. The Industrial Guide to Chemical and Drug Safety covers not only current standards, but also a wealth of information on toxins to help regulatory bodies develop new protocols.

Written in an accessible narrative style, the Guide covers chemicals by key classes such as solvents, pesticides, and metals, and also by key industries such as drugs, food additives, plastics, cosmetics, detergents, and soaps. The book explains the beneficial and harmful aspects of a broad range of materials to which students, trainees, skilled workers, managers, and personnel associated with regulatory agencies are exposed, with the purpose of helping them avoid the illnesses associated with the misuse of chemicals and drugs. Chapters include:

-Heavy Metals
-Pesticides
-Industrial Solvents
-Industrial Gases and Fumes
-Drugs
-Target Organ Toxicity
-Disposal of Hazardous Chemicals
-Guidance to Students and Workers
-Good Laboratory Practice
Foreword.
Preface.
Acknowledgments.
Introduction to Chemical and Drug Safety.
Principles of Toxicity and Safety.
Heavy Metals.
Organochlorine Pesticides.
Organophosphorus Pesticides.
Herbicides and Fungicides.
Carbamates.
Synthetic Pyrethroids, Fumigants, and Rodenticides.
Industrial Solvents.
Food Additives and Food Contaminants.
Industrial Gases and Fumes.
Drugs: Discovery and Development.
Drugs and Human Diseases.
Nonmedical Use of Drugs.
Drugs and Pharmaceuticals: Safety Considerations.
Target Organ Toxicity.
Disposal of Hazardous Chemicals.
Good Laboratory Practice.
Safety Evaluation: Methods and Procedures.
Guidance for Laboratory Students and Occupational Workers.
Appendices.
Glossary.
Index.
"…a readable textbook with extensive breath and adequate depth. Readers can use this text to obtain a broad foundation or to use as a quick reference…" (
Veterinary Pathology
, September 2004)
"...concise and clear...written in an accessible narrative style...offers valuable information to the target audience..." (The British Toxicological Society, No. 24, Summer 2004)
"...this book is just the right size for anyone's bookshelf...a great textbook or resource text..." (Chemical Health & Safety, November/December 2003)
"What a volume of information!...a must for beginning graduate students, enthusiastic workers...and even as a reference for experienced colleagues in toxicology." (Veterinary and Human Toxicology, Vol. 45, No. 4, August 2003)
"This comprehensive work contains a vast amount of information... it is intended for laboratory personnel involved in the manufacture of chemicals, but it contains information that will be useful for anyone who handles or is exposed to chemicals or who is interested in action and effects of chemical substances.... Essential." (Choice, Vol. 41, No. 3, November 2003)
"...offers the reader a good first introduction to this extensive and complex area." (Angewandte Chemie, International Edition, Vol. 42(24), 2003)