Industrial Proteomics: Applications for Biotechnology and Pharmaceuticals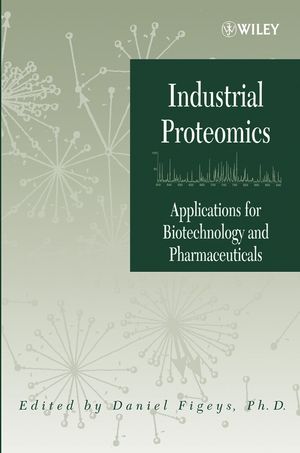 Industrial Proteomics: Applications for Biotechnology and Pharmaceuticals
ISBN: 978-0-471-45714-5 February 2005 320 Pages
Description
This book covers both basic elements and the state-of-the-art in applications of proteomics. The first section gives an introduction to the field, from differential approaches to functional proteomics, including yeast two-hybrid, mass spectrometry, mapping of post-translational modifications, and NMR spectroscopy. The second section offers a complete picture of industry studies in proteomics for human health and biotechnology applications. The final section addresses the future, looking at the most promising areas such as protein arrays and the integration of genomic and proteomic tools.
Buy Both and Save 25%!
This item: Industrial Proteomics: Applications for Biotechnology and Pharmaceuticals
Proteomics in Cancer Research (Paperback $154.95)
Cannot be combined with any other offers.
Original Price:$309.90
Purchased together:$232.42
save $77.48
Table of contents
Preface.
Contributors.
1. Proteomics: The Basic Overview (Daniel Figeys).
2. Mapping Protein-Protein Interactions (Daniel Figeys).
3. Protein Post-Translational Modifications: Phosphorylation Site Analysis Using Mass Spectrometry (Roland S. Annan and Francesca Zappacosta).
4. The Use of High Throughput Crystallography and In Silico Methods for Structure Based Drug Design (Leslie W. Tarr, Andy J. Jennings and Duncan E. McRee).
5. High Throughput Analysis of Protein Structure by H/D Exchange (H/D-Ex) Mass Spectrometry (Yoshitomo Hamuro, Patricia C. Weber and Patrick R. Griffin).
6. Proteomics Technologies for Identification and Validation of Protein Targets (John E. Hale, Weija Ou, Pavel Shiyanov, Michael D. Knierman and James R. Ludwig).
7. Proteomics Discovery of Biomarkers (Robert Massé and Bernard F. Gibbs).
8. Industrial-Scale Proteomics Analysis of Human Plasma (Keith Rose).
9. Chemical Genomics: Targets on Display (Steve Doberstein, Philip W. Hammond and René S. Hubert).
10. Bioinformatics for Proteomics (Christian Ahrens, Hans Jespersen and Soeren Schandorff).
11. Protein Arrays (David S. Wilson and Steffen Nock).
Index.
Reviews
"...very well written and cover[s] a wide range of methods." (
The Quarterly Review of Biology
, September 2005)
"...an excellent text that provides an overview of a number of industrial applications...is useful to anyone involved with proteomics based research." (Clinical Biochemistry, August 2005)