Industrial Revolutions: The Textile Industries, Volume 8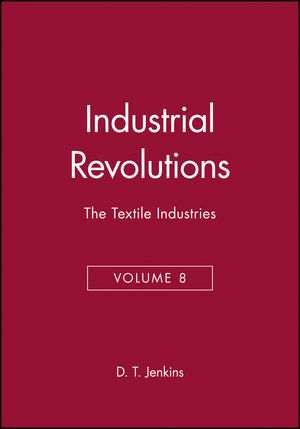 Industrial Revolutions: The Textile Industries, Volume 8
ISBN: 978-0-631-18119-4
Mar 1994
440 pages
Description
This volume brings together nineteen significant articles on the role of textile industries in the Industrial Revolutions of Britain, Europe, Japan, and the United States. In his introduction, the editor surveys the contribution the textile industries have made to economic change.
Textiles have played a major role in industrial transition. Traditional notions of industrial revolutions have, to a great extent, been built on interpretation of changes in the textile industries and the broader implications of these changes for society. The "heroic" advances in textile technology have been used as benchmark dates in the chronology of industrialization, and theories of industrialization and development have often depended on the models provided by the experiences of these trades.
General editor's introduction: R. A. Church and E. A. Wrigley.
Introduction: D. T. Jenkins.
1. Textile growth: D. C. Coleman.
2. Proto-industrialization: the first phase of the industrialization process: Franklin F. Mendels.
3. An innovation and its diffusion: the 'new draperies': D. C. Coleman.
4. The supremacy of the Yorkshire cloth industry in the eighteenth century: R. G. Wilson.
5. Proto-industrialisation: the case of the West Riding wool textile industry in the eighteenth century and early nineteenth centuries: P. Hudson.
6. Hargreaves, Arkwright and Crompton. Why three inventors?: R. L. Hills.
7. Concentration and specialization in the Lancaster cotton industry, 1825-1850: A. J. Taylor.
8. Labour, power and the size of firms in Lancashire cotton in the second quaretr of the nineteenth century: V. A. C. Gatrell.
9. Financial Restraints on the growth of firms in the cotton industry 1790-1850.: S. D. Chapman.
10. The rise of protection and the English linen trade, 1690-1790: N. B. Harte.
11. Technology, transaction costs, and the transition to factory production in the British silk industry, 1700-1870: S. R. H. Jones.
12. Enterprise and innovation in the British hosiery industry, 1750-1850: S. D. Chapman.
13. Managers and machinery: an analysis of the rise of factory production: Jon S. Cohen.
14. The launching of an 'infant industry'?: the cotton industry of Troyes under protectionism, 1793-1860: C. Heywood.
15. Regional integration and specialization in the French worsted industry, 1819-1910: an aspect of industrialization in France: K. Honeyman and J. Goodman.
16. The textile industries in Silesia and the Rhineland: a comparative study in industrialization: Herbert Kisch.
17. Product quality and vertical integration in the early cotton textile industry: Peter Temin.
18. The growth of cotton textile production after 1815: Robert Brooke Zevin.
19. The diffusion of cotton processing and trade in the Kinai region in Tokugawa Japan: William B. Hauser.
Acknowledgements.