Industrial Water Management: A Systems Approach, 2nd Edition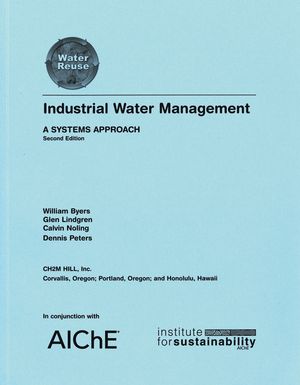 Industrial Water Management: A Systems Approach, 2nd Edition
ISBN: 978-0-470-93563-7
Aug 2010
296 pages
Description
This CD-ROM shows how to systematically incorporate the principles of water conservation, recycling, and reuse into the design of new plants, retrofits of existing systems, and technology development. Technology summaries and case studies that support this systematic approach to water reuse, as well as recommendations for further research, are included.

Included in the price of this CD-ROM is an additional chapter, available in December 2002, detailing water reuse opportunities by industry. The chapter will address the general uses of water in industry, their associated energy costs, and energy management as related to water use and water use reduction.
Section.
Foreword.
Acknowledgments.
Abbreviations and Acronyms.
Chapter 1. Introduction.
1.1. Project Purpose.
1.2. Water Reuse- A Historical Context.
1.3. The Center for Waste Reduction Technologies.
1.4. Monograph Tasks and Scope.
Chapter 2. The Systematic Approach.
2.1. Overview of Approach.
2.2. Step 1 - Establish Leadership and Commitment.
2.3. Step 2 - Frame the Problem.
2.4. Step 3 - Develop Alternatives.
2.5. Step 4 - Select a Course of Action.
2.6. Step 5 - Implement the Course of Action.
2.7. Step 6 - Review and Update.
Chapter 3. water Reclamation Strategies and Technologies.
3.1. Guidance.
3.2. Industry Standard Water Management Strategies.
3.3. Technology Summaries.
Exhibits.
Chapter 4. Case Studies.
4.1. Basis for Selection.
4.2. Case Study # 1: Aluminum Smelting Plant.
4.3. Case Study # 2: Pulp Mill.
4.4. Case Study # 3: Transportation Equipment Facility.
4.5. Case Study # 4: Electric Power Plant.
4.6. Case Study # 5: Semiconductor Fabricator.
4.7. Case Study # 6: Aerospace Manufacturer.
Chapter 5. Water Use in Industries of the Future.
5.1. Overview.
5.2. Agriculture Industry.
5.3. Aluminum Industry.
5.4. Chemical Industry.
5.5. Forest Products Industry.
5.6. Mining Industry.
5.7. Petroleum Industry.
5.8. Steel Industry.
Chapter 6. Developments to Watch.
6.1. Basis.
6.2. Process Issues.
6.3. Regulatory Developments and Voluntary Programs.
6.4. Resource Limitations.
References.
Appendices.
A. Water Reuse Questionnaire.
B. Surveyed Organizations and Responses.
C. Water Analysis Data.
D. Decision Making Using Environmental, Health, and Safety Costs in a Coherent Model.
E. Glossary.