Industrial and Organizational Psychology: Research and Practice, 7th Edition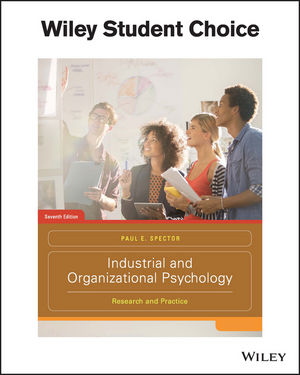 Industrial and Organizational Psychology: Research and Practice, 7th Edition
ISBN: 978-1-119-30470-8 November 2016 432 Pages
Description
TRY (FREE for 14 days), OR RENT this title: www.wileystudentchoice.com

Distinct from any other text of its kind, Industrial and Organizational Psychology: Research and Practice, 7th Edition provides a thorough and clear overview of the field, without overwhelming today's I/O Psychology student. Newly updated for its seventh edition, author Paul Spector provides readers with (1) cutting edge content and includes new and emerging topics, such as occupational health and safety, and (2) a global perspective of the field.
Preface v
Part 1 Introduction
1 Introduction 2
2 Research Methods in I]O Psychology 23
Part 2 Assessment of Jobs, Performance, and People
3 Job Analysis 52
4 Performance Appraisal 76
5 Assessment Methods for Selection and Placement 102
Part 3 Selecting and Training Employees
6 Selecting Employees 132
7 Training 160
Part 4 The Individual and the Organization
8 Theories of Employee Motivation 184
9 Feelings About Work: Job Attitudes and Emotions 203
10 Productive and Counterproductive Employee Behavior 230
11 Occupational Health Psychology 253
Part 5 The Social Context of Work
12 Work Groups and Work Teams 280
13 Leadership and Power in Organizations 303
14 Organizational Development and Theory 330
References 349
Glossary 378
Author Index 387
Subject Index 397
Over 100 new references, almost all of them from 2011 or later.
Topics such as Abusive Supervision, Justice Climate, Underemployment, Research Integrity, Veteran Reintegration, and Credit Checking have been added or substantially revised.
"Learning By Doing" exercises actively engage students with material in each chapter; these exercises ask students to address or answer a particular I/O question and range from interviews to observational activities.
"Research in Detail" adds insight through a study that is revelant to topics covered in the chapter.
"I/O Psychology in Practice" Cases have been chosen to represent the wide variety of settings and pllied work that invlives I/O psychologists.
Paul Spector provides a global perspective on the field and includes important information about I/O outside of the United States.