Infectious Diseases: A Geographic Guide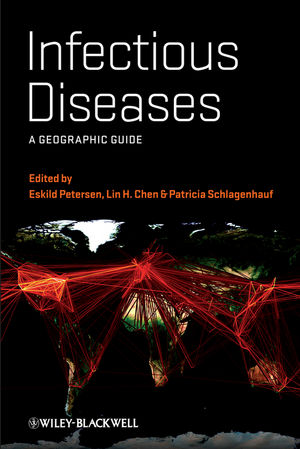 Infectious Diseases: A Geographic Guide
ISBN: 978-1-119-97164-1 May 2011 480 Pages
Description
This concise and practical guide describes infections in geographical areas and provides information on disease risk, concomitant infections (such as co-prevalence of HIV and tuberculosis) and emerging bacterial, viral and parasitic infections in a given geographical area of the world.

Infectious Diseases: A Geographic Guide is divided according to United Nations world regions and addresses geographic disease profiles, presenting symptoms and incubation periods of infections. Each chapter contains a section on the coverage of the childhood vaccination programs in the countries included in that region. Chapters also include descriptions of infectious disease risk and problems with resistant bacteria in each region (e.g. antibiotic resistance in Salmonella infections in Southeast Asia).

For the clinician, this book is a tool to generate differential diagnoses by considering the geographical history, as well the presenting symptoms and duration of illness. For the travel medicine specialist, this book provides information on risks of different diseases at various destinations and is particularly useful in advising long-term travelers. 
List of Contributors, viii
Foreword, xviii
Infectious Diseases in a Global Perspective, xx
1 Historical overview of global infectious diseases and geopolitics, 1
Francis E.G. Cox
2 Detection of infectious diseases using unofficial sources, 11
Lawrence C. Madoff and David O. Freedman
3 Microbes on the move: prevention, curtailment, outbreak, 22
Patricia Schlagenhauf, Giles Poumerol and Francisco Santos-O'Connor
4 Diagnostic tests and procedures, 31
Larry I. Lutwick, Marc Mendelson and Eskild Petersen
5 East Africa: Madagascar and Indian Ocean islands, 53
Philippe Gautret and Philippe Parola
6 Eastern Africa, 64
Andreas Neumayr and Christoph Hatz
7 Central Africa, 84
Gerd D. Burchard and Stephan Ehrhardt
8 North Africa, 98
Philippe Gautret, Nadjet Mouffok and Philippe Parola
9 Southern Africa, 111
Marc Mendelson, Olga Perovic and Lucille Blumberg
10 West Africa, 128
Joanna S. Herman and Peter L. Chiodini
11 Eastern Asia, 139
Susan MacDonald, Yasuyuki Kato and Annelies Wilder-Smith
12 South Central Asia, 155
Prativa Pandey, Holly Murphy and Ashish Bhalla
13 South-eastern Asia, 170
Daniel H. Paris and Nicholas J. White
14 Western Asia and the Middle East: Part 1, 188
Eyal Leshem and Eli Schwartz
15 Western Asia and the Middle East: Part 2, 197
Jaffar A. Al-Tawfiq and Ziad A. Memish
16 Eastern Europe, 203
Natalia Pshenichnaya and Malgorzata Paul
17 Northern Europe, 218
Birgitta Evenga rd, Audrone Marcinkute and Eskild Petersen
18 Southern Europe, 230
Francesco Castelli, Fabio Buelli and Pier Francesco Giorgetti
19 Western Europe, 238
Peter J. de Vries
20 Caribbean, 261
Jana I. Preis and Larry I. Lutwick
21 Central America, 273
Julius B. Salamera and Larry I. Lutwick
22 South America, 290
Rodrigo Nogueira Angerami and Luiz Jacintho da Silva
23 Northern America, 309
Barbra M. Blair, Philip R. Fischer, Michael Libman and Lin H. Chen
24 Australia and New Zealand, 326
Karin Leder, Joseph Torresi and Marc Shaw
25 Oceania, 341
Karin Leder, Joseph Torresi and Marc Shaw
26 Arctic and Antarctica, 360
Anders Koch, Michael G. Bruce and Karin Ladefoged
27 The immunosuppressed patient, 374
Brian T. Montague, Terri L. Montague and Maria D. Mileno
28 Emerging infections, 393
Mary Elizabeth Wilson
29 Migration and the geography of disease, 404
Rogelio Lopez-Velez, Francesca F. Norman and Jose-Antonio Perez-Molina
30 Climate change and the geographical distribution of infectious diseases, 414
David Harley, Ashwin Swaminathan and Anthony J. McMichael
Abbreviations, 424
Index, 426
"Overall, this book presents a useful, interesting perspective of infectious diseases from around the world. I would consider it a "must" on the shelf of travel medicine practitioners and infectious disease clinicians seeing patients who have relevant epidemiologic history. Fellows, residents, and students of infectious diseases and global health would be wise to peruse this volume. This book is a wonderful, welcome contribution to our field."  (Clinical Infectious Diseases, 1 December 2012)
"I found this a very interesting read. The opening chapter is a historical overview of infectious disease, going back hundreds of thousands of years and coming up the present day." (British Journal of Cardiology, 2011)
The editors of this geographical guide to infectious diseases brought a large group of experts and some aspiring young colleagues together. The aim of the book is to cover all geographic regions of the world, providing an overview of the infectious diseases landscape (and in most chapters also of its dynamics) in broad brushstrokes and detailed lists of infectious agents for major clinical syndromes, weighted according to frequency and likelihood. With 30 chapters, the book is comprehensive but concise.
Chapters describing specific geographic regions are accompanied by short descriptions of locally prevailing antibiotic resistance patterns and vaccine-preventable childhood diseases. Chapters exploring largely uncharted territories - the Arctic and Antarctic regions and Oceania - are particularly noteworthy. Despite the conciseness of the text, there is even enough space to tell the fascinating story of Zika virus that was isolated in Uganda in the late 1940s and then emerged in Micronesia 60 years later.

The opening and closing chapters are excellently written, putting geographic medicine intothe context of past and future. Francis Cox provides a fascinating narrative of how infectious diseases through the ages shaped human history; Lópéz-Vélez and colleagues and Harley and colleagues finish by highlighting how human migration and climate change will shape the future of infectious diseases. Additional chapters cover topics such as diagnostic tests and the problems faced by immunocompromised travellers. Although these topics are already covered by other books, the attempt to cover geographic medicine as broadly as possible is commendable.

Valuable additions to future editions would be concise updates of the most recent changes in infectious diseases epidemiology over the past few years, which would give some room to mention briefl y but in some detail fascinating new developments such as the recent surge in chikungunya cases around the Indian Ocean, the identification of Lujo virus in Zambia and South Africa or the identification of a third geographic area (Africa) where gnathostomiasis can be contracted.

All this information can be traced from the present book since those agents are named in the appropriate tables or references, but for the novice in infectious diseases, this sort of information would be highly valuable. This timely book fills a gap within the range of available infectious diseases reference texts and has potential to become a classic over the years to come. (Martin P Grobusch, www.thelancet.com/infection, Vol 12. April 2012)
This book, as stated by the Editors, is concerned primarily with the risk of different diseases in relation to geography. In addition to a few excellent general introductory chapters, the book addresses geographical disease profiles, incubation periods of infections and presenting symptoms, according to the United Nations world regions. As such, the book succeeds extremely well and the Editors are to be congratulated on a comprehensive and very readable text, free of the usual clichés. There are many useful and informative tables and the references are generally well selected.
A.J. Magill in the Foreward emphasises correctly that in clinical medicine "where have you been?" and in carefully tailored preventive medicine "where are you going?" are the foundations of the discipline of Travel Medicine, which is concerned not only with travel but also with immigration, mass population movements and displaced persons, emerging infections and the effect of climate change on the geographical distribution of diseases. Global health and geographical medicine are not topics which can be neglected.
This is an admirable book with only a few blemishes (sorry). An example is the second part of Chapter 15 concerning Western Asia and the Middle East essentially describing the Haj but including a Table which details basic economic and demographic data omitting mention of one advanced country in the Middle East with a population of over 7 million and a country which is visited each year by hundreds of thousands of visitors and pilgrims. This however, is rectified by the sound and detailed chapter in Part 1 on Western Asia and the Middle East. Chapter 10 introduces an oddly term "non-specific viral infections" in an era when highly sensitive and specific diagnostic techniques are available.
The use of creative acronyms is somewhat irritating, although a glossary of most abbreviations is provided, but how many readers will identify correctly the acronyms CRPS, CSOM, GAE, HACEK and MS (MS in this case is used for Member State, not multiple sclerosis according to convention).
At £60 (okay, £59.99, or nearly 100 USD) for a paperback, this book is expensive, but it is worth the price if only for the chapter on the global history of infectious diseases and geopolitics by F.E.G. Cox.
I recommend this book enthusiastically to the many practitioners in Travel and Geographical Medicine, to Infectious Disease physicians, Public Health workers and to medical undergraduate and postgraduate students. It is, however, essential to use this book in conjunction with current world wide web sites on Travel Medicine, such as the World Health Organisation (www.who.int/health), The National Travel Health Network and Centre (NaTHNaC) (www.nathnac.org) and the Centers for Disease Control and Prevention (www.cdc.gov/travel) and many other official internet sites which are updated very frequently in view of the propensity of changes in the epidemiology of infectious diseases and demographic changes. (Jane N. Zuckerman, Travel Medicine and Infectious Disease, Volume 10, January 2012)
Infectious Disease: A Geographic Guide uses United Nations regions as an organizational basis, which achieves the objective of maintaining relevance with respect to by-country travel while reflecting the fact that pathogens do not recognize political borders. The regions are still country groupings, but the way this book cuts up the world integrates how transmission varies by topography, geoclimatic factors, and the fauna that include pertinent disease reservoirs and vectors. Well-written chapters also review background regional histories, evolving global disease patterns, and the impacts of migration, climate change, and public health interventions. Extensively published physicians who have experience in geographic medicine contributed to all of the book's clinical content. Fifteen of the 22 region-specific chapters include authorship from within that region. Nicely organized tables dominate over paragraphs of text. Occasional inconsistencies occur in the use of a unique font that sets off headings and subheadings, but this is a relatively minor side effect of a first printing.
The sequence that reliably characterizes nearly all of the region chapters is by organ system, with diseases then addressed categorically by du-ration of symptoms, using a 4-week cutoff point. Additional sections cover adenopathy, fever without focal symptoms, eosinophilia with elevated IgE, antimicrobial drug resistance, vaccine- preventable diseases, and statistical summaries addressing economics, demographics, and mortality. However, some authors added sections with a syndromic, taxonomic, transmission-based, or incubation-based approach, and 4 of the chapters have more than a slight departure from the essential scheme. Nevertheless, the quality of the content is consistent and, in fact, is enhanced by the variations.
Overall, the Geographic Guide is an outstanding, quick reference for clinicians. The book provides a link between a patient's history or travel itinerary on one hand and a differential diagnosis or guidance for preventive measures on the other. (Bruno P. Petruccelli, Retired, Medical Corps, US Army)