Information Systems: A Management Approach, 3rd Edition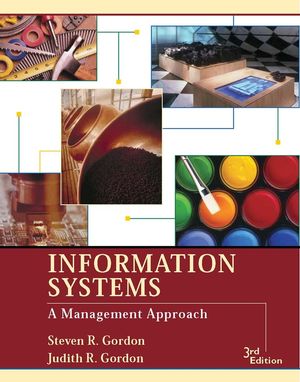 Information Systems: A Management Approach, 3rd Edition
ISBN: 978-0-471-27318-9
Feb 2003
464 pages
Description
This book is intended for use in the introductory information systems course for business majors or graduate programs of business. Most schools provide a separate course for software applications that precedes this course, or they will adopt a second applications book for lab use. Its goal is to prepare future managers to use information systems to meet their information needs. It includes extensive examples of real-world situations in which managers successfully and unsuccessfully use information systems and technologies. The book presents information systems concepts primarily from a manager's perspective, considering the perspectives of knowledge workers and managers in all business disciplines, including: marketing, operations, human resources management, and finance, in organizations of all sizes.
Part I: Diagnosing Information Needs for Management.
Chapter 1: Information Management in a Global Economy.
Chapter 2: The Organization and Information Management.
Part II: Evaluating Information Technologies.
Chapter 3: Computer Hardware and Software.
Chapter 4: Database Management Systems.
Chapter 5: Telecommunications and Networks.
Part III: Designing Systems for Business.
Chapter 6: Introduction to ECommerce and Ebusiness.
Chapter 7: Functional and Enterprise Systems.
Chapter 8: Management Support and Coordination Systems.
Part IV: Managing the Information Resource.
Chapter 9: Systems Planning, Development, and Implementation.
Chapter 10: Managing the Delivery of Information Services.
Concise, lean paperback. Gordon presents the essential information systems concepts in 10 chapters, which gives instructors an opportunity to use outside materials if they choose, but the central topics are covered in a concise manner so they can complete the text in the average semester. Gordon consolidates basic hardware and software topics into one chapter instead of two, as an example.
Streamlined presentation integrates material that competitors have in sidebar boxes, which clutters the text and adds to length. Gordon blends in his examples of managerial/organizational applications, along with global and ethic issues. This assures that students will read the material at the same time as he streamlines the topical coverage.
Timely topics including a new chapter on eCommerce and eBusiness (Chapter 6) discusses the ways that modern businesses are using the Internet, mobile communication, and other information technologies to support existing business processes and to implement new business models. Extensive coverage of unique and timely topics like Business Intellegence (ch 8), knowledge management, Customer relationship management (ch 4), and supply chain management are prominently covered.
A new chapter on functional and enterprise systems (Chapter 7) provides extensive in-depth examples of how functional departments use information systems and technology to automate and improve their processes, and how organizations integrate these systems with one another and with the systems of customers, suppliers, and other business partners.
The four-step management approach provides a framework that shows the connections and interrelationships between managers, the organization and information technology. In addition, Students learn to analyze a situation, evaluate existing systems for managing information, design the features of new systems, and consider the issues associated with implementing them.
Emphasis on eBusiness in the selection of cases and examples in all chapters.
Issues associated with the globalization of business are highlighted throughout the text. Students consider the implications of managing information in transnational organizations with diverse cultures, skills, languages, and legal systems.
Extensive integration of Web-based support material ensures that the third edition remains current with instructors and student resources. Each chapter will have additional examples, readings and exercises exploruing the Internet. New, hot topics will be added where and when it is appropriate.
Current, real-world examples integrated throughout the text illustrate key concepts in action.
A strong ethical focus permeates each chapter, with an activity in each chapter encouraging students to consider the ethical implications of various managerial choices.
Strong focus on current and future technologies ensures that students know about an array of technological possibilities. Updates on the book's Web site ensure that the discussion of technologies remains current.
A short case introduces each chapter. Key concepts throughout the chapter are applied-to the opening case where appropriate.
An integrated and comprehensive pedagogy supports student learning. The pedagogical elements include a chapter outline, learning objectives, chapter summary, key terms, review questions, minicases, activities, notes, and recommended readings.
Minicases allow students to experience real-life situations without leaving the classroom.
Activities at the end of each chapter provide students the opportunity to understand information needs, assess the effectiveness of information management strategies, and apply course concepts to developing aspects of information systems.
IS on the Web Exercises. These exercises at the end of each chapter make use of the Internet as a tool for further exploring chapter concepts.