Information Technology: Strategic Decision-Making for Managers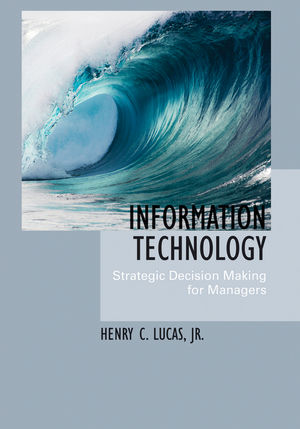 Information Technology: Strategic Decision-Making for Managers
ISBN: 978-0-471-65293-9
Sep 2004
464 pages
Product not available for purchase
Description
To stay competitive in today?s new economy, simply acquiring technology is not enough. Organizations must manage IT effectively to gain the competitive advantage and obtain the maximum benefits from investing in IT.

That?s why this streamlined, up-to-date text focuses on the key knowledge and skills needed to take an active role in managing technology. Throughout the focus is on how information management takes place in the business world, making the text ideally suited for MBA students.

The book?s brief format enables instructors to easily supplement with his or her favorite cases and readings.
Preface.
Chapter 1. Technology Transforms the Organization.
Chapter 2. A Dynamic Model of IT Strategy in a Netcentric Economy.
Chapter 3. New Business Models.
Chapter 4. Organizational Transformation with IT.
Chapter 5. Globalization and IT in International Business.
Chapter 6. Assessing the Value of Investing in IT: The Productivity Paradox.
Chapter 7. Making the IT Investment Decision.
Chapter 8. Choosing Technology.
Chapter 9.  Implementing IT.
Chapter 10. Structuring and Managing The IT Function.
Chapter 11. Management Control of Information Technology.
Chapter 12. The Legacy Environment.
Chapter 13. The First Component: Computer Systems.
Chapter 14. The Second Component: The Database.
Chapter 15. The Third Component: Powerful Networks.
Chapter 16. Electronic Commerce: Changing How Business Is Done.
Chapter 17. Business Process: Examples from ERP and CRM.
Chapter 18. Decision and Intelligent Systems.
Chapter 19. Knowledge Management: Benefiting from Core Competencies.
Chapter 20. Technology Haves and Have Nots: The Digital Divide in the US and the World.
Chapter 21. Ethical Issues and a Look Ahead.
Bibliography.
Index. 
Coverage of management issues for the non-technical manager. Prepares students for their careers through real-world examples, such as the issues in deciding whether or not to modify an ERP System.
Two full chapters on the value of information technology and on how to evaluate IT investments. Shows students to evaluate IT project proposals using both net present value (NPV) and real options approaches. Also includes a web-based Whirlpool case assignment and spreadsheet to demonstrate tradeoffs evaluating an IT investment using NPV analysis and real options analysis.
Balanced coverage of issues with the technology. Students learn how companies have developed their diverse IT architectures and environments. The Victor Electronics story that runs through several chapters contributes to this balance.
Many short discussions of IT applications in sidebars provide concrete examples to illustrate the concepts.
Up-to-date coverage of technology and issues.