Information Technology Outsourcing Transactions: Process, Strategies, and Contracts, 2nd Edition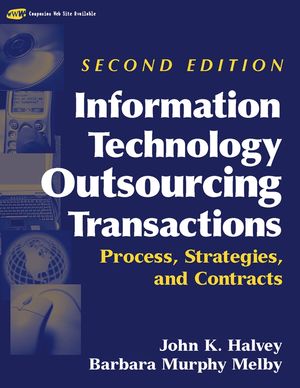 Information Technology Outsourcing Transactions: Process, Strategies, and Contracts, 2nd Edition
ISBN: 978-0-471-74617-1
Nov 2005
648 pages
Description
A completely revised update of the First Edition, this book focuses exclusively on outsourcing information technology such as data processing, computer systems, and specialized software programs essentially an intellectual property transaction. It covers, among other topics, licensing and software development agreements, sales of tangible assets, human resources management, and more.
About the Authors.
About the Web Site.
Preface.
Chapter 1: Overview of the IT Outsourcing Industry.
1.1 Background.
1.2 IT Outsourcing Industry.
1.3 IT Outsourcing Deals.
Chapter 2: Considering Outsourcing: The Request for Proposal and Vendor Selection.
2.1 The Directive.
2.2 Obtaining Support and Forming the Outsourcing Team.
2.3 Guidelines and Internal Evaluation.
2.4 Preparing a Timetable.
2.5 Internal Communications.
2.6 Defining the Scope of the Transaction.
2.7 Selecting a Group of Potential Vendors.
2.8 Request for Proposal.
2.9 Evaluating the Proposals.
2.10 Notifying the Preferred Vendor(s).
Chapter 3: Negotiations: Strategy and Process.
3.1 Introduction.
3.2 Negotiating Process.
3.3 Exposure Analysis.
3.4 People Negotiate, Not Companies.
3.5 Negotiating Strategy.
Chapter 4: Outsourcing Contract.
4.1 Overview.
4.2 Use of Attorneys.
4.3 Key Contract Issues.
4.4 Retaining Strategic Control.
4.5 Assembling the Team.
Chapter 5: Exhibits.
5.1 Critical Part of the Outsourcing Contract.
5.2 Exhibit Listings.
5.3 Checklists.
Chapter 6: Financial Considerations.
6.1 Introduction.
6.2 Base Case.
6.3 Retained Costs.
6.4 Unit vs. Total Cost.
6.5 Pricing Options.
6.6 Other Financial Charges.
6.7 Financial Impact of Change.
6.8 Payments.
6.9 Chargeback.
Chapter 7: Human Resources.
7.1 Transitioning Employees to the Vendor.
7.2 Due Diligence.
7.3 The Employment Offer.
7.4 Communication and Transition Plan.
7.5 Contract-Related Issues.
7.6 Stay Incentives.
Chapter 8: Information Privacy and Security Issues.
8.1 Introduction.
8.2 Selected Information Privacy Laws.
8.3 Selected Information Security Laws.
8.4 Company Privacy Policies.
8.5 Outsourcing and Global Companies.
8.6 Offshore Outsourcing.
8.7 Practice Tips.
Chapter 9: Measuring Performance.
9.1 Overview.
9.2 Service Levels.
9.3 Benchmarking.
9.4 Customer Satisfaction.
9.5 Gainsharing.
Chapter 10: Transformational Outsourcing.
10.1 Moving from A to C.
10.2 Internal Considerations.
10.3 Project Definition.
10.4 Maintaining Multiple Environments.
10.5 Using Subcontractors.
10.6 Contract Terms.
Chapter 11: Global Transactions.
11.1 Overview.
11.2 Contract and Legal Issues.
Chapter 12: Business Process Outsourcing.
12.1 The Emerging Market.
12.2 What Is BPO?
12.3 Areas Targeted for BPO.
12.4 Reasons for Outsourcing Business Processes.
12.5 Integration: Making BPO Fit.
12.6 BPO Vendors.
Chapter 13: Internet-Enabled Outsourcing: The Virtual Frontier.
13.1 Introduction.
13.2 Potential Problems and Issues.
Chapter 14: Post-Negotiation Activities.
14.1 Contract Signing.
14.2 The Press Release.
14.3 The Autopsy.
14.4 Risk Analysis.
14.5 Contract Administration.
14.6 Implementing the Transition Plan.
14.7 Notifying Third Parties.
Chapter 15: Renegotiation and Termination.
15.1 Overview.
15.2 Renegotiation/Termination Process.
15.3 What Does the Contract Say?
15.4 Additional Issues to Consider.
15.5 Termination Plan.
Appendices.
Appendix 1.1 Outsourcing in the Pharmaceutical Industry.
Appendix 2.1 Nondisclosure Agreement (Mutual Protection).
Appendix 2.2 Request for Information.
Appendix 2.3 Request for Proposal.
Appendix 2.4 Customer Reference Questions: Sample.
Appendix 2.5 Vendor Proposals Relating to the Provision of Information Technology Services Evaluation.
Appendix 2.6 Assessing Legal Resources Required (Customer Form): Questionnaire.
Appendix 2.7 Due Diligence Agreement.
Appendix 2.8 Letter of Intent (Customer Form).
Appendix 2.9 Letter of Intent (Vendor Form).
Appendix 2.10 Consent Letter (Management of Third-Party Products/Services).
Appendix 3.1 Model Term Sheet.
Appendix 4.1 Key Issues in Outsourcing Agreements.
Appendix 4.2 Key Issues in Offshore Outsourcing Agreements.
Appendix 4.3 Key Issues in a Data Center Outsourcing Transaction.
Appendix 4.4 Information Technology Outsourcing Agreement (Customer Form).
Appendix 4.5 Information Technology Outsourcing Agreement (Vendor Form).
Appendix 4.6 Proprietary Rights Rider (Vendor Form).
Appendix 4.7 Teaming Agreement.
Appendix 5.1 Employee Confidentiality Agreement.
Appendix 5.2 Customer Satisfaction Survey Checklist.
Appendix 5.3 General Assignment and Bill of Sale Agreement.
Appendix 5.4 Example of Joint Management Procedures.
Appendix 6.1 Cost-of-Living Adjustment (COLA) Provisions Checklist.
Appendix 7.1 Stay Incentives.
Appendix 7.2 Issues to Consider When Selecting Retained Employees.
Appendix 9.1 Gainsharing in Outsourcing Transactions: Overview.
Appendix 9.2 Checklist of Issues to Consider When Establishing Service Level Methodologies.
Appendix 11.1 International Transactions Key Issues Checklist.
Appendix 11.2 Global Master Services Agreement (Vendor Form).
Appendix 11.3 Example of Local Counsel Questionnaire for International Outsourcing Transactions.
Appendix 13.1 Key Legal Issues to Consider When Negotiating Contracts for the Provision of Application Services.
Appendix 13.2 Legal Checklist for ASPs.
Appendix 13.3 Legal Due Diligence Checklist for Companies Transacting with ASPs.
Appendix 13.4 Application Services (Vendor Sample Form) Agreement.
Appendix 13.5 Business Continuity Issues for Customers to Consider When Evaluating an Application Service Provider.
Appendix 15.1 Checklist for Renegotiating/Terminating Information Technology Outsourcing Transactions.
Appendix 15.2 Due Diligence Checklist for Customers Considering Termination.
Appendix 15.3 Termination Assistance Services Agreement Outline.
Appendix 15.4 Termination Agreement between Customer and Vendor.
Index.