Information Technology Project Management with CD-ROM, International Student Version, 3rd Edition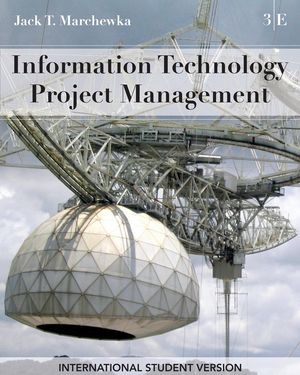 Information Technology Project Management with CD-ROM, International Student Version, 3rd Edition
ISBN: 978-0-470-40948-0
Apr 2009
440 pages
Product not available for purchase
Description
The Third Edition of Jack Marchewka's Information Technology Project Management focuses on how to create Measurable Organizational Value (MOV) through IT projects. The author uses the concept of MOV, combined with his own research, to create a solid foundation for making decisions throughout the project's lifecycle. The book's integration of project management and IT concepts provides students with the tools and techniques they need to develop in this field.
1) The Nature of Information Technology Projects.

2) Conceptualizing and Initializint the IT Project.

3) Developing the Project Charter and Baseline Project Plan.

4) The Human Side of Project Management.

5) Defining and Managing Project Scope.

6) The Work Breakdown Structure and Project Estimation.

7) The Project Schedule and Budget.

8) Managing Project Risk.

9) Project Communication, Tracking, and Reporting.

10) IT Project Quality Management.

11) Managing Organizational Change, Resistance, and Conflict.

12) Project Procurement Management and Outsourcing.

13) Leadership and Ethics.

14) Project Implementation, Closure, and Evaluation.
Incorporates the latest Chaos studies and research conducted by the author and Tata Consultancy services in 2007.
Updated material on Project Management process and Project Integration Management.
NEW material on critical chain project management.
Hands-on, integrated case assignments in the form of "quick thinking" exercises and end-of-chapter cases. Can be used as classroom discussion tools or student assignments.
Emphasizes MOV as a central theme in the text. 
Takes you through the different phases of the project life cycle and introduces the concepts and tools that are appropriate for each specific phase of the project.
Incorporates nine areas outlined in the Project Management Institute's Project Management Body of Knowledge (PMBOK) into the basic concepts associated with information systems management and software engineering.
Integrates a knowledge management approach throughout the book. 
Includes a CD trial version of MS Project 2007™