Information Technology and Organizational Transformation: Innovation for the 21st Century Organization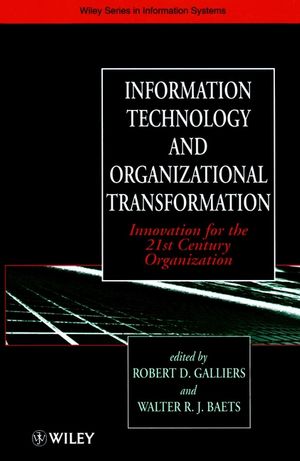 Information Technology and Organizational Transformation: Innovation for the 21st Century Organization
ISBN: 978-0-471-97073-6 February 1998 318 Pages
Description
This book discusses a holistic approach to organizations. It explores alternative organizational forms and work practices, the use and availability of information systems, evolving skill requirements, the innovative power of information technology, the creation of knowledge, and the reshaping of industrial sectors. Presents forward-looking, exciting topics. Breaks the boundaries of functionally-based, overly deterministic information literature.
Information Technology and Organizational Transformation: The Holy Grail of IT?

(B. Galliers & W. Baets).

STARTING AFRESH.

Linking Strategy and IT-based Innovation: The Importance of the "Management of Expertise" (H. Scarbrough).

Computer Supported Collaborative Working: Challenging Perspectives on Work and Technology (L. Bannon).

The Metamorphosis of Oticon (N. Bjoørn-Andersen & J. Turner).

IT AND THE LEARNING ORGANIZATION.

Organizational Learning and Core Capabilities Development: The Role of IT (R. Andreu & Claudio Ciborra).

The Corporate Mind Set as a Precursor for Business Process Change: About Knowledge, Perceptions and Learning (W. Baets).

The Role of Learning in Information Systems Planning and Implementation (T. Reponen).

INNOVATION, NETWORKS AND CORPORATE IDENTITY.

Innovations as Precursors of Organizational Performance (J. Pennings).

EDI, Organizational Change and Flexibility Strategies (R. O'Callaghan).

An IT Architecture to Support Organizational Transformation (W. Baets & V. Venugopal).

IT AND ORGANIZATIONAL CHANGE.

Reflections of BPR, IT and Organizational Change (B. Galliers).

The Role of IT in Organizational Transformation (J. Turner).

LUCIA Accelerates Service Delivery: A Case Study of Business Process Re-engineering (P. Meester & J. Post).

AFTERWORD.

Success and Failure in Corporate Transformation Initiatives (A. Pettigrew).

Postscript (B. Galliers & W. Baets).

Index.