Information Technology for Management: Advancing Sustainable, Profitable Business Growth, 10th Edition International Student Version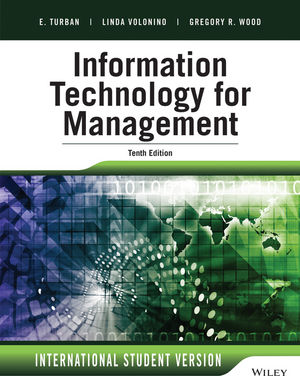 Information Technology for Management: Advancing Sustainable, Profitable Business Growth, 10th Edition International Student Version
ISBN: 978-1-118-95895-7
Jul 2015
392 pages
Product not available for purchase
Description
Information Technology for Management by Turban, Volonino, and Wood engages students with up-to-date coverage of the most important IT trends today.  Over the years, this leading IT textbook had distinguished itself with an emphasis on illustrating the use of cutting edge business technologies for achieving managerial goals and objectives. 
The 10th Edition continues this tradition with coverage of emerging trends in Mobile Computing and Commerce, IT virtualization, Social Media, Cloud Computing and the Management and Analysis of Big Data along with advances in more established areas of Information Technology.


Part 1 Digital Technology for Revenue Growth, Profitability, and Innovation

1 Digital Technology Creates New Levers for Growth and Improved Performance 1
Case 1.1, Opening Case: China's Digitization Expands Business Opportunities and GDP 2
1.1 Digital Technology Transforming How Business Is Done 4
1.2 Business Process Management 10
1.3 Competitive Advantage and SWOT Analysis 14
1.4 Enterprise Technology Trends 20
1.5 IT Expertise Adds Value to Your Career 22
Case 1.2, Business Case: Pei Wei Asian Diner Deploys Mobile and Social Channels 25
Case 1.3, Video Case: London's PIE Mapping Grows to Global Scale with Cloud Services 26
2 Data Governance, IT Architecture, and Cloud Strategies 27
Case 2.1, Opening Case: Grupo Fármacos Builds Business Capabilities 28
2.1 Data Governance Strategy 30
2.2 Enterprise IT Architecture 35
2.3 Information and Decision Support Systems 40
2.4 Data Centers and Cloud Computing 46
2.5 Cloud Services Delivery Models 53
Case 2.2, Business Case: BMW Becomes More Competitive with Private and Hybrid Clouds 57
Case 2.3, Video Case: Cloud Computing: Three Case Studies 58
3 Data Management, Big Data, and Business Intelligence 59
Case 3.1, Opening Case: Asia Capital Reinsurance Leverages Data Analytics Platforms 60
3.1 Database Management Systems 62
3.2 Big Data and Analytics 70
3.3 Data and Text Mining 79
3.4 Business Intelligence 81
Case 3.2, Business Case: How the World's Largest Beverage Company Competes 86
Case 3.3, Video Case: Hertz Dominates Global Car Rental Market 87
4 Digital Networks and the Triple Bottom Line 89
Case 4.1, Opening Case: "One Sony" Strategy Simplifies Global Collaboration 90
4.1 Data Networks and API 92
4.2 Wireless and Mobile Infrastructure 100
4.3 Messaging and Collaboration Technology 103
4.4 Sustainability and the Triple Bottom Line 106
Case 4.2, Business Case: Customizable Web and Mobile Business Apps 113
Case 4.3, Video Case: Popcart Technology Takes Consumers from Inspiration to Preparation 114
5 Cybersecurity, Risk Management, and Financial Crime 116
Case 5.1, Opening Case: Nearly 40% of South Korea Hacked in Insider Data Theft 117
5.1 Data Breaches and Cybersecurity Challenges 118
5.2 IT Risk Management 125
5.3 Mobile, App, and Cloud Security Challenges 138
5.4 Financial Crime and Fraud Defenses 140
Case 5.2, Business Case: LinkedIn Hack: Lessons Learned and Hidden Dangers 144
Case 5.3, Video Case: Targeted Botnets 146
Part 2 Reaching, Engaging, and Retaining Consumers
6 Internet Technologies and Search Strategies 149
Case 6.1, Opening Case: Nike Golf Drives Web Traffic with Search Engine Optimization 150
6.1 Search Technology 153
6.2 Organic Search and Search Engine Optimization 158
6.3 Paid Search Strategies and Metrics 162
6.4 Semantic Web and Search 164
6.5 Recommendation Engines 167
Case 6.2, Business Case: Baidu and Qihoo SEO—Optimising for Chinese Customers 172
Case 6.3, Video Case: Learning Power Search 173
7 Social Media Strategies and Metrics 175
Case 7.1, Opening Case: How ASOS Manages Its Social Channels 175
7.1 Social Media Strategies and Communities 177
7.2 Social Communities and Engagement 183
7.3 Social Monitoring, Metrics, and Analytics 191
7.4 Social Media Failures and Lessons Learned 195
Case 7.2, Nonprofit Case: L&L Society of Canada Social Marketing Strategy 199
Case 7.3, Video Case: Rise of Social Networks at Deutsche Bank 200
8 Retail, Mobile, and E-Commerce 202
Case 8.1, Opening Case: Louis Vuitton Mobile Commerce Strategy 202
8.1 Retail Channels 204
8.2 B2C E-Commerce 206
8.3 B2B E-Commerce and E-Procurement 210
8.4 Mobile Commerce and Transactions 214
Case 8.2, Business Case: Hot Mobile App WeChat Revives QR Codes 225
Case 8.3, Video Case: Mobile Visual Search Technology 225
Part 3 Operational and Strategic Systems and Technology
9 Tactical and Operational Support Systems 227
Case 9.1, Opening Case: Ducati Redesigns Its Operations 228
9.1 Business Challenges 231
9.2 Manufacturing, Production, and Transportation Management Systems 235
9.3 Sales and Marketing Systems 241
9.4 Accounting and Finance Systems 243
9.5 Human Resource Systems and Ethics 251
Case 9.2, Business Case: HSBC Fights Fraud in Split Second Decisions 255
Case 9.3, Video Case: United Rentals Optimizes Its Workforce with Human Capital Management 256
10 Strategic Enterprise Systems 257
Case 10.1, Opening Case: 3D Printing 258
10.1 Enterprise Systems 261
10.2 Enterprise Social Platforms 265
10.3 Enterprise Resource Planning Systems 269
10.4 Supply Chain Management Systems 275
10.5 Customer Relationship Management Systems 280
Case 10.2, Business Case: SAP Implementation Fail 286
Case 10.3, Video Case: Conversations in the Cloud with 4.8 Billion Consumers 287
Part 4 Operational and Strategic Information Systems
11 Data Visualization and Geographic Systems 289
Case 11.1, Opening Case: Global 500 and Agencies Visualize with StatSilk 290
11.1 Data Visualization 291
11.2 Enterprise Data Mashups 297
11.3 Digital Dashboards 300
11.4 Geographic Information Systems 303
Case 11.2, Visualization Case: Are You Ready for Football? 307
Case 11.3, Video Case: The Beauty of Data Visualization 307
12 IT Strategy and Balanced Scorecard 308
Case 12.1, Opening Case: Superior Performance with Balanced Scorecard 308
12.1 IT Strategies 311
12.2 IT–Business Alignment 316
12.3 Balanced Scorecard Method 318
12.4 Cloud and Vendor Strategies 321
Case 12.2, Business Case: British-Swedish Biopharmaceutical Ends $1.4 Billion Outsourcing Contract 328
Case 12.3, Data Analysis: Third-Party versus Company-Owned Offshoring 329
13 Project Management and SDLC 331
Case 13.1, Opening Case: Keeping Your Project on Track, Knowing When It Is Doomed 332
13.1 Project Management and Project Portfolios 336
13.2 Project Stages: Planning, Execution, and Budgeting 339
13.3 Project Stages: Monitoring, Control, and Closing 347
13.4 System Development Life Cycle 349
Case 13.2, Business Case: Steve Jobs' Project Management Style 353
Case 13.3, Demo Case: Mavenlink Project Management Software 354
Glossary G-1
Organizational Index O-1
Name Index N-1
Subject Index S-1
More Project Management with Templates: Students are given templates for writing a project business case, statement of work (SOW), and work breakdown structure (WBS). Also, critical project management issues include the following: project post-mortem, responsibility matrix, go/no go decision factors, and the role of the user community.
New Technologies and Expanded Topics: With more purchases and transactions starting online and attention being a scarce resource, students learn how search, semantic, and recommendation technologies function and improve revenue. The value of Internet of Things (IoT) has grown significantly as a result of the compound impact of connecting people, processes, data, and things.
Easier to Grasp Concepts: With models and text graphics for each opening case (the authors' version of infographics) learning is easier and longer-lasting.
Each chapter contains numerous case studies and real world examples illustrating how businesses increase productivity, improve efficiency, enhance communication and collaboration, and gain a competitive edge through the use of ITs. Faculty will appreciate a variety of options for reinforcing student learning, that include three Case Studies per chapter, including an opening case, a business case and a video case.
IT at Work boxes spotlight real-world cases and innovative uses of IT.
Tech Note boxes explore topics such as "4G and 5G Networks in 2018" and "Data transfers to mainframes."
Career Insight boxes highlight different jobs in the IT for management field.
Analyze and Decide questions help students apply IT concepts to business decisions.
WileyPLUS: WileyPLUS is an innovative, interactive online environment that supports positive learning outcomes by providing a variety of study tools and resources for your students. For you, WileyPLUS offers a solution for teaching with current, engaging and relevant content quickly and easily.