Informing American Health Care Policy: The Dynamics of Medical Expenditure and Insurance Surveys, 1977-1996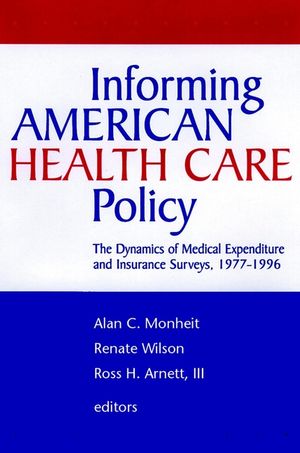 Informing American Health Care Policy: The Dynamics of Medical Expenditure and Insurance Surveys, 1977-1996
ISBN: 978-0-787-97716-0
May 2004, Jossey-Bass
242 pages
Description
Informing American Health Care Policy provides a critical perspective on the National Medical ExpAnditure Surveys (NMES) and how these surveys have responded to the sometimes conflicting challenges of policy and research. Sponsored by the Agency for Health Care Policy and Research and written by a stellar panel of interdisciplinary experts including contributions from nationally known economists, sociologists, and survey researchers, this essential resource is filled with lessons learned and emerging strategies for the future.
Foreword.

Preface and Acknowledgments.

The Editors.

The Contributors.

Introduction (A. Monheit & R. Wilson).

PAST CHALLLENGES AND CURRENT ISSUES.

National Medical ExpAnditure Surveys: Genesis and Rationale (R. Andersen & O. Anderson).

Modeling Consumer and Provider Behavior: The First National Expenditure Study (G. Wilensky).

The Provider System and the Changing Locus of Expenditure Data: Survey Strategies from Fee-for-Service to Managed Care (J. Cohen & A. Taylor).

SOURCES OF PAYMENT AND THE STRUCTURE OF HEALTH INSURANCE.

Examining Health Insurance Differences: Issues of Public Equity and Cost Efficiency (P. Short).

Health Insurance, Employment, and the Labor Market (A. Monheit).

VULNERABLE POPULATIONS: HEALTH CARE AND MEASURES OF ACCESS.

The National ExpAnditure Surveys and Studies of Access to Care by Vulnerable Populations (M. Berk).

Evaluating Medicare and Medicaid: The Yield in Information from the National Medical Expenditure Surveys (J. Kasper).

SURVEY METHODS, BUDGET CONSTRAINTS, AND OPERATIONAL ISSUES.

Better Estimates of Populations at Risk and More Efficient Sampling: Changing Survey Design Strategies over Time (S. Cohen).

Continuity Versus Change: Challenges in Designing a Successor Survey (D. Walden).

Survey Integration and End-of-Century Constraints (R. Arnett).

THE ROLE OF NATIONAL DATA IN POLICY FORMULATION.

Health System Reform Debates and Medical Expenditure Surveys (L. Nichols).

Name Index.

Subject Index.
"... Informing American Health Care Policy is a useful, even entertaining book for anyone who uses health data or who wants to understand the history and evolution of expAnditure surveys." (Health Affairs May/June 2000)

"In this important book, the lead researchers associated with NMES describe the development of this rich data source and, in a series of well-crafted papers, illustrate the use of these data in informing major areas of health policy. It is a must-read for anyone interested in American health policy-especially for younger professionals entering this growing field." (Uwe E. Reinhardt, James Madison Professor of Political Economy, Princeton University)

"National health expenditure surveys have provided policymakers with the information they need to make informed decisions. This volume tells us about the evolution and contributions of the federal government's most ambitious health care survey. I recommAnd it for those interested in improving the quality of data available to those who formulate policy." (John K. Iglehart, founding editor, Health Affairs)

"I enjoyed reading this book. Thanks to the major investment in health expAnditure and insurance surveys and the increasingly sophisticated analytic capacity described in this volume, policy officials now have a much more precise and up-to-date understanding of the implications of policy choices." (Karen Davis, president, The Commonwealth Fund; developed President Carter's 1977 national health reform proposal)

"Thoughtful and informed reflections on the lessons learned by NMES. Provides sound guidance and procedures required to address the Anduring policy questions of Who's covered? Who pays?, and How much? in the emerging U.S. health care environment of the future." (Lu Ann Aday, professor of behavioral sciences and management and policy sciences, the University of Texas School of Public Health; and author, Designing and Conducting Health Surveys, Fourth Edition)