Inhibitors in Patients with Haemophilia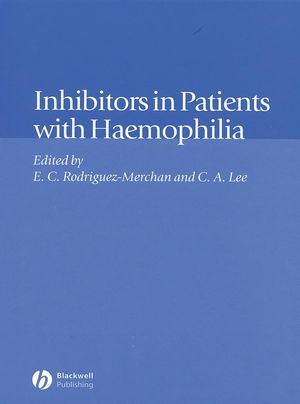 Inhibitors in Patients with Haemophilia
ISBN: 978-0-632-06477-9
Jun 2002, Wiley-Blackwell
232 pages
Description
Edited by an orthopaedic surgeon and a haematologist who are leading specialists in the treatment of haemophilia, Inhibitors in Patients with Haemophilia reviews the different haemostatic products and protocols for the control of bleeding and surgery in haemophilic patients with inhibitors.


The book draws together in a single volume all of the clinical issues involved in the treatment of inhibitors from numerous specialists worldwide. It will be an invaluable resource for all those treating inhibitors in people with haemophilia.
Contributors.
Preface.
HAEMATOLOGY.
1 Natural history of inhibitor in severe haemophilia A and B: incidence and prevalence.
Jeanne Lusher (USA).
2 Characterisation of inhibitors in congenital haemophilia.
Kathelijne Peerlinck and Marc Jacquemin (Belgium).
3 Incidence and prevalence of inhibitors and type of blood product in haemophilia A.
Christine Lee and Thynn Thynn Yee (UK).
4 Genetic basis of inhibitor development in severe haemophilia A and B.
Edward Tuddenham (UK) and Johannes Oldenburg (Germany).
.
MANAGEMENT OF TREATMENT.
5 Therapeutic products: human FVIII, porcine FVIII, prothrombin complex concentrates, activated prothrombin complex concentrates and recombinant FVIIa.
Thierry Lambert (France).
6 Methods: plasmapheresis and protein A immuno-adsorption.
Eric Berntorp (Sweden).
7 Venous access in children with inhibitors.
Rolf Ljund (Sweden).
IMMUNETOLERANCE.
8 Immunetolerance: high dose regimen.
Hans Brackmann and Thomas Wallny (Germany) (To be agreed).
9 Immunetolerance: low dose regimen.
Eveline Mauser-Bunschotten (Netherlands).
10 Immunotolerance and choice of concentrates.
Wolfgang Kreutz (Germany).
11 Immunetolerance regimen: the North America registry (To be agreed).
Donna DiMichele (USA).
.
MEDICAL MANAGEMENT OF BLEEDING EPISODES.
12 Treatment of bleeding episodes in children.
Joan Tusell (Spain).
13 General medical management of bleeding episodes: haemarthroses, muscle haematoma, mucocutaneous bleed, haematuria.
Manuel Quintana (Spain).
14 Life- and limb-threatening bleeding episodes and intracranial bleeds.
Sam Schulman (Sweden).
.
INHIBITORS IN HAEMOPHILIA B.
15 Inhibitors in haemophilia B patients.
India Warrier (USA).
16 Inhibitors in mild/moderate haemophilia.
Charles Hay (UK).
17 Acquired inhibitors to FVIII.
Craig Kessler (USA).
.
MUSCULOSKELETAL ISSUES.
18 Pathogenesis of musculoskeletal complications of haemophilia.
E C Rodriguez-Merchan (Spain).
19 Orthopaedic management of haemarthroses.
E C Rodriguez-Merchan (Spain).
20 Synoviorthesis with Rifampicin.
Horacio Caviglia (Argentina) and F Fernandez-Palazzi (Venezuela).
21 Radiosynoviorthesis.
Eric Berntorp (Sweden).
22 Musculoskeletal MRI.
Rachel Nuss and Jerome Wiedel (USA).
23 Iliopsoas haematomas and limb compartment syndromes.
Michael Heim (Israel).
24 Pseudotumours.
Marvin Gilbert (USA).
25 Haemophilia patients with inhibitors: a rheumatologist´s point of view.
John York (Australia).
26 Rehabilitation.
Felipe Querol and José Aznar (Spain).
27 Physiotherapy.
Karen Beeton (UK).
28 Elective orthopaedic surgery in patients with high responding inhibitors-.
Ivan Hvid, J Soballe and J Ingerslev (Denmark).
.
GENERAL SURGERY.
29 General and emergency surgery in patients with high responding inhibitors.
Owen Smith & Barry White (Ireland).
30 Dental extractions.
Uri Martinowitz (Israel).
.
PSYCHOSOCIAL ISSUES.
31 Psychological issues.
Pilar Arranz (Spain).
.
32 GENERAL STRATEGY FOR MANAGEMENT OF INHIBITOR PATIENTS.
Inga Scharrer (Germany).
Index