Inhuman States: Imprisonment, Detention and Torture in Europe Today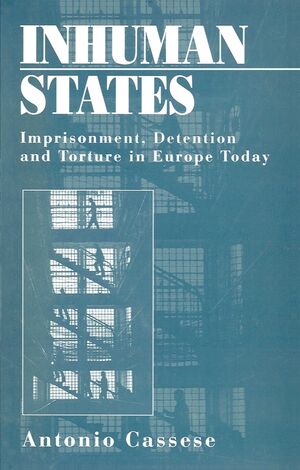 Inhuman States: Imprisonment, Detention and Torture in Europe Today
ISBN: 978-0-745-61722-0
Nov 1996
152 pages
Description
This is a first-hand account of the often appalling conditions in prisons, police stations, psychiatric institutions, detention centres and other places where individuals are deprived of their liberty. It is based on extensive inspections in many countries in Europe, including the UK, France, Spain, Greece and Turkey, by a group of inspectors who had hitherto unparalleled access to institutions of detention.


Inhuman States is a gripping account of the seamy side of Europe, of those 'social dustbins' that most people tend to ignore and of the practices - including torture - which take place within them. But it is also a book about some general concepts - what is 'human'? What should 'inhuman' or 'degrading' mean? Should general standards be uniformly applied to countries with diverse traditions, legal systems and conditions of life?


This book is also a forceful plea for a better and more civilized Europe. Cassese argues that Europe should be unified not only in the field of markets, banks, lawyers, and commerce: an effort should also be made to set out and implement at least some common European standards of justice with regard to those places of detention where each country relegates its misfits, deviants and all those who are thought to imperil the social fabric.
Preface.
1. A Revolutionary Step.
2. The Blue Berets of Human Rights?.
3. Firemen or Specialists in Preventive Medicine?.
4. Into the Breach: Inspectors in Action.
5. What is Human, Inhuman or Degrading?.
6. On Torture.
7. Common Criminals and Terrorists.
8. Policemen, Prison Warders and Magistrates.
9. A Few Concluding Observations.
Note.
"This remarkable book bears astonishing witness to the widespread persistence of torture and institutional cruelty in today's Europe. It is a chilling and moving account by a widely acclaimed legal scholar and moral authority figure."
Richard Falk, Princeton University
"Sober, brief, altogether convincing ... it is full of fascinating information and insights." The Times Higher Education Supplement
"The author is a visionary of the kind that Europe sorely needs to penetrate xenophobic and nationalistic mistrust which can in turn lead to state secrecy and ultimately abuse. Inhuman States is an interesting and sometimes chilling read ... this is a thoughtful book liberally sprinkled with classical and academic references, but it is not academic in nature." Journal of Civil Liberties
"An accessible and compelling story ... harrowing experiences of which [Cassese] has here given so moving an account." International and Comparative Law Quarterly
"This ... elegantly written volume is an excellent translation of a book that appeared in Italian in 1994. This is a moving and highly readable account of the dilemmas of being an internationally sanctioned human rights monitor with limited powers, confronted by a deep-rooted tradition of torture and abuse of detainees that is still remarkably commonplace throughout Europe." European Journal of International Law
* A remarkable, first-hand account of the experiences of international inspectors who visited the police stations, prisons, psychiatric institutions of many countries in Europe including the UK, Spain, Turkey, and France.
* A vivid depiction of how the inspectors worked, the major problems they encountered and the resulting improvements.
* A gripping account of the seamy side of Europe.