Injury and Violence Prevention: Behavioral Science Theories, Methods, and Applications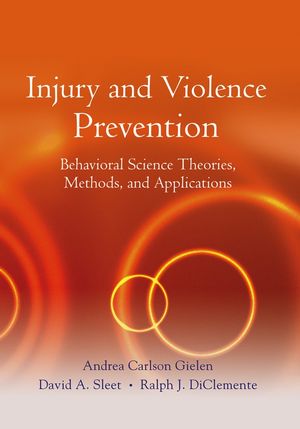 Injury and Violence Prevention: Behavioral Science Theories, Methods, and Applications
ISBN: 978-0-787-97764-1
Mar 2006, Jossey-Bass
576 pages
Description
Injury and Violence Prevention: Behavioral Science Theories, Methods, and Applications is a cutting-edge volume that provides a comprehensive understanding of injury and violence prevention. This detailed resource draws on the breadth and depth of many scientific disciplines and public health practice experiences. Written by internationally renowned experts in the field, Injury and Violence Prevention emphasizes the specific theories, methods, and applications that make behavioral science approaches relevant and central to reducing injury-related harm. The book covers a wide range of topics, including the most frequently used behavior change theories and models and shows how they have been¾or could be¾applied to injury problems, the most commonly used research methods for understanding and influencing behavior change, behavior change issues for specific injury topic areas, and   a variety of cross-cutting issues important to the field.
Buy Both and Save 25%!
Original Price:$185.00
Purchased together:$138.75
save $46.25
Cannot be combined with any other offers.
Buy Both and Save 25%!
Original Price:$122.00
Purchased together:$91.50
save $30.50
Cannot be combined with any other offers.
Foreword (
Martin Fishbein
).
Foreword (David C. Grossman).
Preface.
The Editors.
The Contributors.
1 Injury Prevention and Behavior: An Evolving Field (Andrea Carlson Gielen, David A. Sleet).
PART ONE: BEHAVIOR CHANGE THEORIES AND MODELS.
2 Individual-Level Behavior Change Models: Applications to Injury Problems (David A. Sleet, Lara B. Trifiletti, Andrea Carlson Gielen, Bruce Simons-Morton).
3 The Application of Social Cognitive Theory to Injury Prevention (Bruce Simons-Morton, Tonja Nansel).
4 Community Models and Approaches for Interventions (Andrea Carlson Gielen, David A. Sleet, Lawrence W. Green).
5 Health Risk Communication and Injury Prevention (Deborah C. Girasek).
6 Ecological Models for the Prevention and Control of Unintentional Injury (John P. Allegrante, Ray Marks, Dale W. Hanson).
7 Planning Models: PRECEDE-PROCEED and Haddon Matrix (Kimberley Freire, Carol W. Runyan).
PART TWO: RESEARCH AND ASSESSMENT METHODS FOR BEHAVIOR CHANGE INTERVENTIONS.
8 Study Methods for Understanding Injury Behavior (Nancy J. Thompson).
9 Intervention Research and Program Evaluation (John B. Lowe, Jingzhen Yang, Erin Heiden, Ralph J. DiClemente).
PART THREE: BEHAVIOR CHANGE INTERVENTIONS TO REDUCE INJURY RISK.
10 Behavior Change Interventions in Road Safety (Lawrence P. Lonero, Kathryn M. Clinton, David A. Sleet).
11 Modifying Alcohol Use to Reduce Motor Vehicle Injury (Ralph Hingson, David A. Sleet).
12 Behavioral Considerations for Sports and Recreational Injuries in Children and Youth (Morag MacKay, Karen Liller).
13 House Fires and Other Unintentional Home Injuries (Eileen M. McDonald, Andrea Carlson Gielen).
14 Occupational Injury Prevention and Applied Behavior Analysis (E. Scott Geller).
15 Intimate Partner Violence (Karen A. McDonnell, Jessica G. Burke, Andrea Carlson Gielen, Patricia J. O'Campo).
16 Applying Behavioral Theory to Self-Directed Violence (Alex E. Crosby, David W. Coombs, Leigh Willis).
17 Youth Violence Prevention: Theory and Practice (Darrell Hudson, Marc A. Zimmerman, Susan Morrel-Samuels).
PART FOUR: CROSS-CUTTING ISSUES.
18 Supervision as a Behavioral Approach to Reducing Child-Injury Risk (Barbara A. Morrongiello, Jennifer Lasenby).
19 Reducing Posttraumatic Stress After Individual and Mass Trauma (Courtney Landau Fleisher, Nancy Kassam-Adams).
20 Law, Behavior, and Injury Prevention (Frederic E. Shaw, Christopher P. Ogolla).
21 Human Factors in Product and Environmental Design for Injury Control (Bryan E. Porter, James P. Bliss).
22 Behavioral Sciences, Injury, and Violence Prevention: Synthesis and Future Directions (Ralph J. DiClemente, Andrea Carlson Gielen, David A. Sleet).
Appendix: Federal Injury and Violence-Related Data Systems (Joseph L. Annest, David A. Sleet).
Name Index.
Subject Index.
"This text presents an opportunity for a cleaver reappraisal of the imperative to improve and the health outcomes of the next generations . . ." (
Australian and New Zealand of Public Health
, August-Sept 2007)
"Should be on the bookshelf of every researcher, practitioner, and advocate striving to reduce the public health burden of injury and violence. This well-written, comprehensive, and compelling book has a great deal to teach students and professionals about the theories underpinning the design, implementation, and evaluation of behavioral change strategies."
— American Journal of Preventive Medicine
"This book would be an excellent resource for classroom teaching. The authors have provided thought-provoking examples of 'real-life' interventions. The book would be useful not only in a topical class on the issue of injury and violence but also in classes focused on behavior change theories and theory-based intervention development. I found new and innovative examples of interventions that I will use in classroom teaching.
I would recommend this book to public health professionals and to teachers working with students of public health, health education, nursing and medicine. The clarity of the writing and the excellent examples make this book appropriate for both graduate- and undergraduate-level students"
— Health Education Research
"The cohesive textbook Injury and Violence Prevention: Behavioral Science Theories, Methods, and Applications offers the reader a solid foundation for the involvement of psychology in the field."
— Contemporary Psychology: APA Review of Books
"I highly recommend this book. It sets a new standard for the next generation of injury and violence prevention programs."
— American Journal of Health Behavior
"The outstanding new text Injury and Violence Prevention: Behavioral Science Theories, Methods, and Applications is the first to focus on the application of behavioral science to the problem of injury.
— Journal of the American Medical Association
Author recognition: Andrea Gielen directs the best-funded, most well published center on injury prevention, based at the nation's top school of public health. David Sleet, in his CDC role, is peerless in the respect he has earned as a behavioral science. Ralph DiClemente many research projects into risk reduction and injury prevention have earned him substantial followings throughout the public health and behavioral/psychological communities.
Leading edge: Using the most up-to-date CDC framework for designing injury prevention as a public health intervention, this book will be the first to bring behavior-change theories and methods to this area.
Practical: The book will explain and provide the underlying science and theories related to major types of inury (motor vehicle injuries, drowning), along with best practices/current knowledge about how to prevent these injuries; and the specific role of behavior and behavior change in their prevention.
The editors will include chapters on the most prominent behavioral theories used in public health as applied to injury prevention. (The list of theories/models includes the health belief model, stage-based models [transtheoretical, precaution adoption process], theory of reasoned action/theory of planned behavior, social learning theory/social cognitive theory, applied behavioral analysis, community level models, health communication and risk communication, and integrative models for practice [such as precede/proceed and the various ecological models].)
Brand name contributors: The editors are recruiting the top names in health promotion research as individual contributors, such as Carol Runyan (behaviorist at UNC/Chapel Hill), Nancy Thompson (behavioral epidemiologist at Emory/Rollins), and Katherine Miner (health promotion/behaviorist at Emory/Rollins).